UPSC Prelims Exam 2020 – New Dates are out (New UPSC calendar)
UPSC Preliminary Exam dates are announced today. Earlier, this was to be out on the 20th of the last month but it was postponed. Every year Prelims exam takes place on 31st May but due to an unexpected COVID outbreak, it was cancelled this year.
Almost 10 Lakhs students are waiting for the exam date and every student is preparing hard for it. As per the revised calendar the new exam date is 4th October'20 as per the official website of UPSC.This year students have got adequate time for the preparation but this exam is the mother of all the exams thus, you should not stop your preparation.
Union Public Service Commission also declared for several other exams such as NDA, CDS, IES etc which were postponed due to COVID-19 outbreak. Indian Forest Services Prelims exam is also to take place on the same day of UPSC civil services prelims.
There were many speculations on the exam date. Moreover, UPSC has already promised the students that IAS exam dates will be announced at least 30 days prior to the exam. Now, with the exams in October'20, students are satisfied and they have got additional 4 months to prepare for the exam.
Now UPSC Aspirants know the time table of the exam and with the release of the exam date, preparation will go full swing. It's time to accelerate your preparation.
List of all the New UPSC Exam Dates
| | | |
| --- | --- | --- |
| Exam(s) Name | Old Date | New Date |
| UPSC Prelims | 31st May'20 | 04th Oct'20 |
| Indian Forest Services Prelims | 03rd Mar'20 | 04th Oct'20 |
| NDA Exam | 28th Jan'20 | 06th Sept' |
| Engineering Services Mains | | 09th Aug'20 |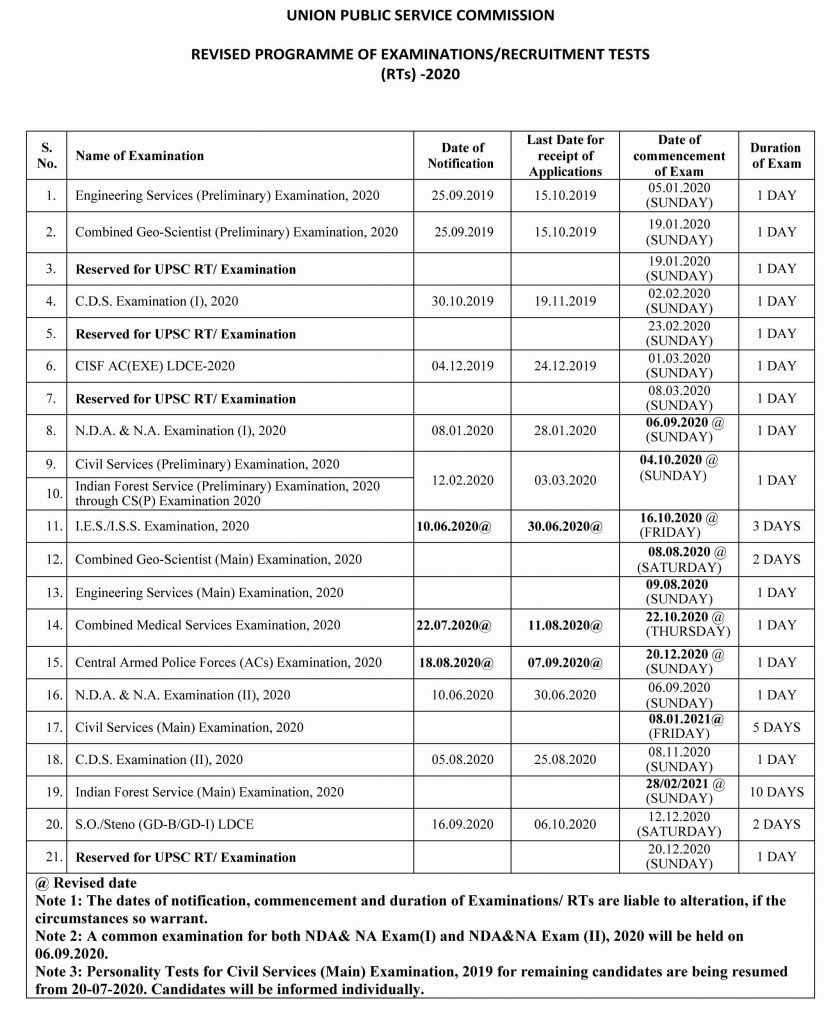 Find the detailed list by visiting the official website.
Additionally, UPSC also notified in their calendar that the Personality test for the previous year will also be resumed from 20th July'20. Candidates will be informed individually about their exam date.
This year Civil Services Mains exam will also be delayed and so will be the personality test. We wish you all the best for the preparation.
Tips for last days of the Prelims exam 2020
Revise, Revise & Revise – Exams will be conducted after 4 months now. It means if you have extra 120 days. You should not waste your time and revise as much as possible. Don't forget to use your own notes for fast preparation.
Understand the competition – Civil Services Prelims Exam will witness more competition this year and cut off may go even higher than previous years because of the extra time of preparation.
Focus on Current Affairs – There have been many significant changes in the policies and rules due to COVID-19. Our international relations have also changed a lot and there are many history changing events in the last 6 months.
Thus, give extra caution to your Current Affairs section. Don't forget to be on toes when it comes to Current affairs. You may get many questions related to COVID-19 and international relations between India and other countries.
Start the reverse countdown- Don't forget to start the reverse timer. With less than 120 days in the exam, you need to be very alert. Keep a track of the date and revise your syllabus.
The Hindu is your bible – As I mentioned above, give extra time on current affairs. For preparing this vast subject, don't forget to read The Hindu on a daily basis. You should pay extra attention to the Hindu editorial page.
Useful Articles to Check
Please share your feedbacks