THE best CAT Coaching in Bangalore list is prepared after deep research and analysis into each institute's background. We have taken enough time to complete the top 5 CAT Coaching Institutes list. The is finalized based on students' feedback and the online reputation of each CAT Institutes.
Why Bangalore for Preparation
Bangalore is one of the most famous cities of India Bangalore is situated in the South Indian State of Karnataka. It's the Capital of Karnataka and also has world fame as the "Fashion Capital" of India. Bangalore is known as "IT HUB" or "Silicon Valley of India" as almost all IT companies have their offices in Bangalore. In Bangalore, You can find a mixed cultured Population as professionals from all over India work there. Locals are very friendly and always happy to see outsiders around them, which makes this city lifeful.
As Bangalore has a lot of scope in Education and Corporate there are a lot of good schools, colleges, and corporate houses.
Top B-schools are there in Bangalore includes IIM-B, T A Pai, Symbiosis, Xavier, Christ, MS Ramaiah, and many more. A Healthy environment of Bangalore always attracts CAT aspirants to fulfill their dreams.
Top 5 CAT Coaching Institutes in Bangalore
There are a lot of options to choose CAT Coaching in Bangalore. Sometimes it's confusing to choose from the Best Brands. Here, we are listing out the top 5 CAT coaching in Bangalore for you. We hope this article will help you to sort CAT coaching based on your preferred features and requirements.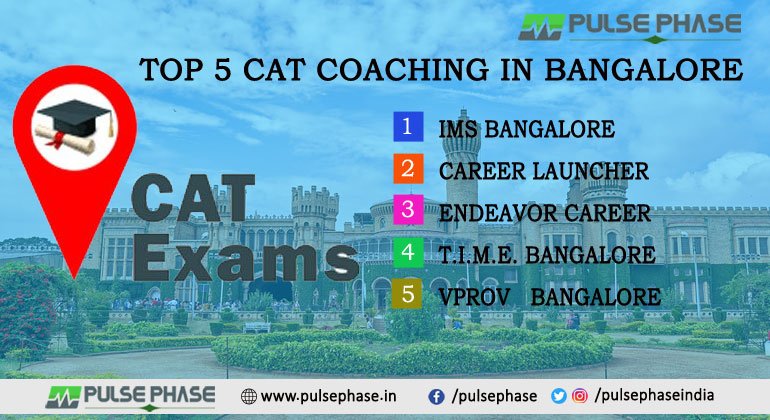 #1. IMS Bangalore
IMS Bangalore is top-rated among Best CAT Coaching Centres in Bangalore City. With the claim of the most percentage of successful CAT aspirants in past years. IMS positioned itself as one of the most trusted brands in Bangalore. IMS Bangalore is famous for Well-structured study material. A simple explanation for tricky questions and quick shortcuts for tricky questions are the best part of IMS Study material.
A dedicated research team works for years to design the most suitable and relevant and structured form of study material. All the latest updates and changes you can find in the IMS study material. Such hard work over research results reflects in aspirants' trust in IMS Bangalore
Key Specialities of IMS Bangalore
Well-designed study material is the best part of IMS Bangalore, it's been famous among CAT aspirants a lot.
Accessible centers by public transport.
Huge study material at the Library.
To track individual performance, all centers conduct regular interaction sessions.
Separate study plans as per individual requirements.
All you need to know about IMS – One of the Top CAT Coaching in Bangalore
| | |
| --- | --- |
| IMS Bangalore Fee | 72,000 as per course structure |
| Batch Size | Up to 30 Students per batch |
| Study Material | Online and offline |
| Doubt Session | Module-wise sessions |
| Address | No. 412, 3rd floor, Soundarya Sampige, 8th cross, sample road, Malleswaram – 560003 |
| Contact No. | +91 9900045033/34 |
| Email id | Malleswaram@imsindia.com |
| Website | https://www.imsindia.com |
Pulse Phase Review – IMS Bangalore mainly focused to provide best in the class study material. CAT Aspirants trusts over IMS for its well-structured study material. Apart from this Mentor's profile, accessible locations are also making IMS Bangalore one of Top Choice among various destinations. We recommend IMS Bangalore for CAT coaching due to these features.
Other branches in Bangalore – Indiranagar, Jayanagar, Koramangala, Marshall.
#2. Career Launcher
Career Launcher is well known along with aspirants for its highly qualified team of mentors. A strict scrutineer and selection procedure for teacher's selection at Career Launcher. Bangalore centers have almost all mentors from Top B-Schools and have long teaching experience in the relevant field.
Most of the faculty engaged in research work too so that aspirants can study the latest and relevant study material and pattern as per changes by CAT Examination Authorities. Innovative ideas presented by Teachers are always welcomed by Career Launcher management, resulting in high-class Study material and teaching technologies that came out in practice at career launcher. Career Launcher Bangalore is famous for its unique and advanced technological support system including traditional teaching methodologies.
Key Features of Career Launcher Bangalore
A Unique and specialized feature of a comprehensive program including, Artificial Intelligence based CAT percentile predictor system.
Small groups size of students at live and Interactive sessions.
A well qualified and dedicated team of mentors.
A successful record.
Personalized individual mentoring system for performance measure.
Topic-wise Test series and specifically focused test series.
All you need to know about Career Launcher Bangalore – Best Coaching for CAT
| | |
| --- | --- |
| Career Launcher Fees | 35,000/- to 80,000/- for various programs, depending upon course typee. (GST Extra) |
| Batch Size | Up to 40 Students |
| Study Material | Online and offline |
| Doubt Session | Chapter-wise Session |
| Address | Building no. 4/3/1 & 3/2, 3rd floor, Shubha Shree Mahindra Tower, 11th main, 3rd block, Jayanagar 560011 |
| Contact No. | +91 80 789972781 / 888 2 120 120 |
| Email id | rahulreddy@careerlauncher.com |
| Website | www. careerlauncher.com |
Pulse Phase Review – Our recommendation is Career Launcher for CAT Preparation in Bangalore. At Career Launcher Bangalore, Aspirants can get a better experience than other coaching institutes. Well-structured Study material and a team of well-qualified Mentors make Career Launcher Bangalore a top priority for the CAT entrance exam.
Other Branches in Bangalore- Institutional, BTM, Indiranagar, Jayanagar, Kormangala, Malleswaram, Marshall, Vijayanagar
#3. Endeavor Careers
Endeavour Careers is a well-known brand for CAT Coaching in Bangalore. A lot of aspirants got benefit from getting a clear CAT and other Reputed national and International entrance exams. Most of the pass-out aspirants wrote on the internet about the actual situation at Endeavor Careers as compared with other national and local brands. main features like Focus on individual students is on higher priority at Endeavor Careers. Study material at Endeavor Careers is deeply researched and well structured. Apart from regular classroom study material special sessions for group discussion and Personal interview are carried out with real like mock simulations.
Overall Endeavor, Careers is good enough for CAT preparation in Bangalore.
Key Features of Endeavor Careers
Restricted to a small batch size of only maximum twenty-five students is the main attraction of Endeavor Careers,
Small batch size lead to personal attention by mentors on every student,
Strict focus on GD and PI by thoroughly interactive sessions,
Align and well-structured Study material,
Result oriented and closely monitored sessions followed by separate repeat modules system for weaker students
All you need to know about Endeavor Careers – Best CAT Coaching in Bangalore
| | |
| --- | --- |
| Endeavor Careers Fee Structure | 72,000 + GST, |
| Batch Size | Maximum up to 25 Students |
| Study Material | Online and offline both modes available |
| Doubt Session | Yes, after every chapter |
| Address | 23, First Floor, Vasavi Plaza, near cool joint, eleventh main, Jayanagar, Bengaluru- 560041 |
| Contact No. | +91 7204935692 / 8733003330 |
| Email id | bangalore@endeavorcareers.com |
| Website | www.endeavorcareers.com |
Pulse Phase Review – Prime location in the city and small batch size with other remarkable features makes Endeavor Careers recommendable. Overall worthy and result oriented destination as CAT Coaching in Bangalore.
Other Branches in Bangalore – No other centre in Bengaluru.
#4. T.I.M.E. Bangalore
Triumphant Institute of Management Education is one of the most trusted education brands in India. Since its establishment, thousands of aspirants achieved their dream with the precious guidance of a capable team of mentors at T.I.M.E.
A trusted brand with its well researched and structured study material prepared by full-time researchers who are well educated, qualified and have years of industry experience in combination to deliver best in class study material which is easy to understand and in a well-structured form.
At T.I.M.E. The overall curriculum includes group discussions and personal interview preparation sessions in parallel as well, so that aspirants would be able to perform better in group discussion and personal interview rounds of admission accordingly as they already had a lot of mock sessions of it during regular class sessions.
Unique monitoring method "One on One " for Personal attention on individual aspirants and regular doubt clearing session is the best part of IMS Bangalore.
Key Specialities of TIME Bangalore
A team of well-qualified mentors and well-researched study material are key features of T.I.M.E. Bangalore.
Timely scheduled interaction Session with parents and students to update aspirant's performance and discuss any issue with them if found by mentors or students vice versa.
Section-wise test series to compute performance and continuous repeat sessions for weaker students to cover syllabus with ease of understanding all topics.
Chat sessions to remain in touch with mentors and stay updated,
Dedicated and Innovative Teaching Methodology to keep students up to date regarding technological support.
Wide Library with aligned study material and real-life case studies for critical thinking solutions.
A decent Study Environment to help students achieve their dreams,
Student home page facility for every student to ease of access material online while away from the classroom.
All you need to know about T.I.M.E – Best CAT Coaching in Bangalore
| | |
| --- | --- |
| TIME Bangalore Fees | 35,000 ~ 82,000 INR for different programs |
| Batch Size | Up to 35 Students |
| Study Material | Online and offline |
| Doubt Session | Yes, sectional Doubt sessions, including individual and group repeat doubt sessions. |
| Address | 2nd floor, sai plaza, 7th crossroad, next to ICICI Bank, BTM 2nd stage, Bengaluru 560076 |
| Contact No. | +91 8861786524 |
| Email id | bengaluru@time4education.com |
| Website | www.time4deucation.com |
Pulse Phase Review – T.I.M.E. Bangalore is a well-reputed brand for CAT preparation in Bangalore City. A well-connected network of multiple branches at almost all prime locations in Bangalore, makes T.I.M.E Bangalore recommendable as most of the aspirants choose Bangalore for CAT coaching from various cities nationwide. Yet T.I.M.E. follows a Strict and well-recognized SOP regarding unique teaching methodology which makes it different and better than other coaching in Bangalore. Hance TIME coaching is recommended from our side for CAT aspirants in Bangalore.
Other Branches in Bangalore- IndiraNagar, jaya nagar, Koramangala, Malleswaram, Marathalli, Yelahanka
#5. VproV bangalore
An ISO 9001:2008 certified coaching centre with a team of top B-school alumni as its founder / management and Mentors core team which reflects in their hard-earned reputation within city limits.
VproV is a leading CAT Preparation coaching institute in Bangalore. Here at VproV most of the mentors are from reputed B-Schools and have experience in Mentoring and Consulting along with industry expertise. Such profiles of mentors help a lot to students while exploring solutions. Mentors monitor the progress of every aspirant closely and follow teaching methodology accordingly. Repeat sessions as extra classes conducted by mentors for weaker students.
As considering Social responsibility towards society, VproV impart coaching to approximate 100 physically challenged and economically poor scholar students every year for absolutely free of cost.
Key Features of VproV Bangalore
Technology driven teaching methodology.
Mentors graduates from Top B-Schools of India,
Chapter-wise Doubt sessions for best results,
Prime and accessible locations.
Individual assistance sessions
All you need to know about VproV – Best CAT Coaching in Bangalore
| | |
| --- | --- |
| VproV Fee Structure | 60,000 INR for a one-year course. |
| Batch, Size | Up to 25 Students |
| Study Material | Online and offline |
| Doubt Session | After every Chapter |
| Address | #38, 3rd floor, K.Mariyappa Building, Ganga Nagar, Bengaluru |
| Contact No. | +91 8884008880 |
| Email id | info@vprov.in |
| Website | www.vprov.in |
Pulse Phase Review – VproV is recommendable because of its specific set of features. Course material and lead by adopting technology-driven latest teaching methodology making its positioning among top-rated and preferred CAT coaching in Bangalore. Our recommendation is VProv for those who love technology-driven education methodology.
Other Branches in Bangalore– in total 70+ national and 9 overseas centers including following centers in Bangalore only itself, Old Madras Road I, Old Madras Road II, Mekhri Circle, Malleswaram, E-City, Hosur road, Devana Halli, Yelahanka, Jayanagar, Vasanth Nagar, Koramangala.
Top CAT Coachings to Check in Other Cities
FAQs About CAT Coaching in Bangalore.
When should I start preparing for CAT 2021?

You may start your CAT preparation from today. This is recommended for every competitive entrance exam preparation by industry experts.  Start early as you can start because you would have enough time to revise your syllabus and avoid common mistakes most students make in a hurry. 

Which institute is best for CAT coaching in Bangalore?

There are many Coachings in Bangalore for CAT Preparation but the most popular  coachings are IMS Bangalore, Career Launcher Bangalore, Endeavor Career Bangalore, T.I.M.E. Bangalore and VproV bangalore.

Is Coaching for CAT Necessary? 

This is suggested by Experts to Join Coaching for CAT preparation is beneficial for the candidates to score good in the CAT exam. However, it is not mandatory to join any coaching institute to prepare for the CAT exam. You Just have a proper planning and preparation strategy to ace the CAT exam.

Why Bangalore for CAT preparation?

Bangalore is famous for Quality coaching centers, educated mentors, and an educational atmosphere. This is the main factor to attract CAT aspirants in Bangalore for Exam preparation.

How many times and when CAT Exam conducts in a year?

One time in a year (November or December) CAT Exam conducts.

What are the Average fees in CAT coachings in Bangalore?

Average fees are around 50,000 rupees for CAT coaching in Bangalore.

Is there a language barrier for Northern state natives in Bangalore?

In Comparison to other south Indian cities, Bangalore has fewer language barriers. Locals, there has enough command over other languages like Hindi and English.

How about the public transport facility in Bangalore?

There is a good network of local buses all over the city. Additionally, Metro is in operation on a few routes. Ola and Uber and Rapido like bike service are also there in Bangalore. Cab and auto are also there but it's higher in the fare.

What about online CAT coaching in Bangalore?

Many well-established CAT coaching brands are providing online class tutorials in Bangalore. This is a little cheaper than regular classroom coaching.

What are the housing and food expenses in Bangalore?

Bangalore is quite expensive to other cities in India. But  Some areas like BTM Layout, RT Nagar, Hebbal are comparatively cheaper. and you can easily find here sharing accommodations and tiffin food systems.
Summary
Article Name
Top 5 Best CAT Coaching Institutes in Bangalore for Exam Preparation - Pulse Phase
Description
Top 5 Best CAT Coaching in Bangalore with the fee structure. Select the Best Coaching for CAT Exam Preparation in Bangalore. IIM Admission
Author
Publisher Name
Publisher Logo