UPSC Preparation Strategy from IAS Toppers – It's a dream come true for any Indian parents to know that their son or daughter has cracked UPSC, India's toughest exam of IAS. And it's a cherry on the top if they have done it in their very first attempt.
Generally, candidates take two or more attempts to clear the exam but every year there are several candidates who by their hard work and perseverance get the IAS tag in their first attempt.
Read the IAS Toppers Preparation Strategies and Success Stories Who has cracked the IAS Exam in 1st Attempt.
Know What are UPSC Preparation strategies to clear UPSC in their first attempt?
Everything is difficult before it becomes easy. For those who have cracked the UPSC exam in their first attempt know that it's quite possible. But, candidates who are pursuing or about to take civil services as a career doubt the possibilities.
Let's know about the IAS toppers strategies that they have followed to succeed in UPSC Exam. Sheer determination, unwavering focus, and smart strategies are the must-thing to become an IAS officer, what else these IAS toppers did to qualify in the first attempt.
Rishita Sharma – IAS Topper's advice to treat the first attempt as the last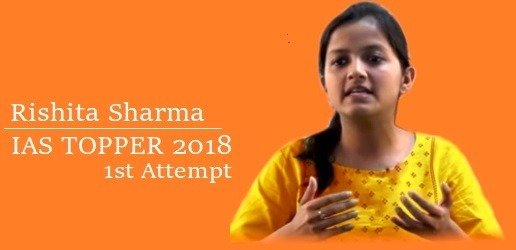 IAS Preparation Strategy of Rishita Sharma
We have the maximum energy while preparing for any tough exams for the first time. So, why not to use this confidence and energy to get the best result?
Rishita Sharma – IAS Toppers Success Story she believes that one should prepare for the UPSC exam for the first time as it is their last chance to qualify.
She secured Rank 18 in the IAS exam in 2018 in her very first attempt. Born and brought up in Delhi, she chose English literature in her graduation.
Her strategies to go unbeatable in the first attempt of the UPSC exam are:
Read about the mistakes that IAS toppers have made in their 1st attempt and how they rectified them.
Make sure you are doing everything to qualify for the exam. Take it as your fourth attempt and your last option to become an IAS officer.
Don't go on covering everything rather focus on revising the topics you have already covered at least 20 times.
Work on your confidence skills and never underestimate the importance of any stage or exam.
Focus on putting the maximum effort rather than the results. Don't involve yourself in any emotional level while preparing for the exam.
Have limited and useful resources.
Koya Sree Harsha – IAS Toppers Strategy for picking the right optional subject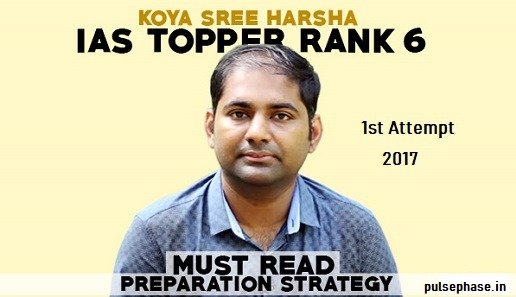 Koya Sree Harsha – IAS Toppers Success Story, Like many IAS aspirants, Koya Sree Harsha also found difficulty in picking the right optional subject for him. He knew the importance of the optional subject in improving the rank in the UPSC exam so, before settling down on any cliché subject randomly he did proper research.
After skimming through various subjects like History, Geography, Political Science, and Telugu literature he finalized Anthropology based on marking trends and repetition of questions.
His strategies for picking the right optional subject are:
Always go with the subject of your interest
Don't finalize the subject before properly analyzing its syllabus. Make sure you can cover the entire syllabus without getting bored.
Is the study material of the subject of your choice available easily on the internet or in the market? Make sure there is enough study material for you to read and grasp the subject properly.
Go through the question papers of previous years and check the marking scheme.
If possible, talk to your seniors who have cleared the exam with the same opted subject as yours.
Koya Sree Harsha scored 330 marks out of 500 which played a major role in improving his rank. He secured AIR 6 in the UPSC exam in 2017. He had completed his Production and Industrial Engineering from NIT, Jamshedpur in 2012. He had worked in Bangalore for four years before shifting to Delhi for the preparation.
Anmol Sher Singh Bedi – Know-how IAS Toppers aced the lengthy syllabus of GS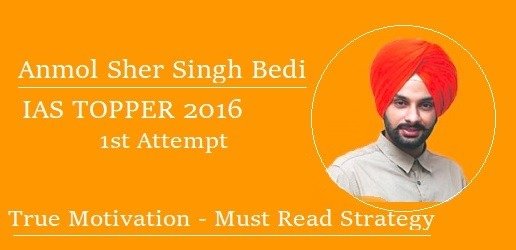 Anmol Sher Singh Bedi's Preparation Strategy for IAS Exam
Many candidates lack the proper strategy to prepare for the General Studies paper because the vastness of this paper is intimidating.
You don't worry IAS Anmol Sher Singh Bedi has a solution for all the IAS aspirants who aren't able to manage the huge syllabus of GS.
His strategies to cover the lengthy syllabus of General Studies are as follow:
Hard work will do but smart work will help you excel in the subject
For mains examination, you need to absorb the central ideas of all the topic you are covering
For Prelims, one requires good, intelligent guessing to do well
You can't always have concrete and definite knowledge, so trust in the heuristic method to do well.
Make sure you know something about everything rather than knowing everything about something
Take help from your coaching institute or if you are preparing online then solve as many test papers as you can. This will boost your confidence.
Anmol Sher Singh Bedi secured the second rank in the IAS exam in 2016. He is a B. Tech. graduate in Computer Science from BITS, Pilani. He is a self-motivated and optimistic person.
His positive outlook towards life plus dedication and will power helped him to clear the IAS exam in the first attempt.
Saumya Pandey – IAS Topper strategy for preparing for UPSC prelims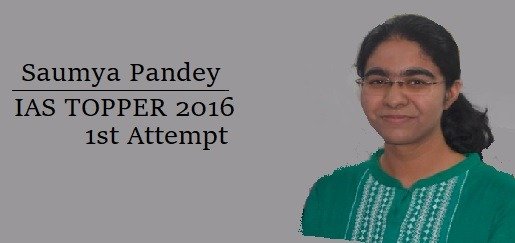 IAS Preparation Strategy & Success Story of Saumya Pandey
Saumya was confident about her performance in the UPSC exam in 2016 though she never thought she could be one of the toppers. Even she checked the exam result from backward.
She was heart-broken to not find her name on any of the four pages of the list. She had left to check her name on the first page, her mother did it. Saumya was more shocked than happy to know she is rank four.
Let's know Saumya's approach for the UPSC prelims which is the very first obstacle to pass before jumping to the next two rounds—Mains and the interview.
IAS Saumya recommends practicing mock tests as many as possible before 1-2 months of the prelims exam
Stick to NCERTs of class VI to class XII for all subjects like history, geography, political science, sociology, and science.
To keep herself updated with current affairs, she followed online sources that featured regular PIB and the Hindu
Firstly attempt questions for which you are 100 sure then move on to the questions you are dicey about.
For less-confident questions, try to eliminate at least two options that you find completely wrong.
Saumya Pandey was just 23 when she wrote her UPSC CSE exam in 2016. After attaining the graduate degree from Allahabad she began her preparation for one year and qualified the exam in her first attempt.
Tina Dabi – IAS Topper relied heavily on her study plan and calls it 'the-must'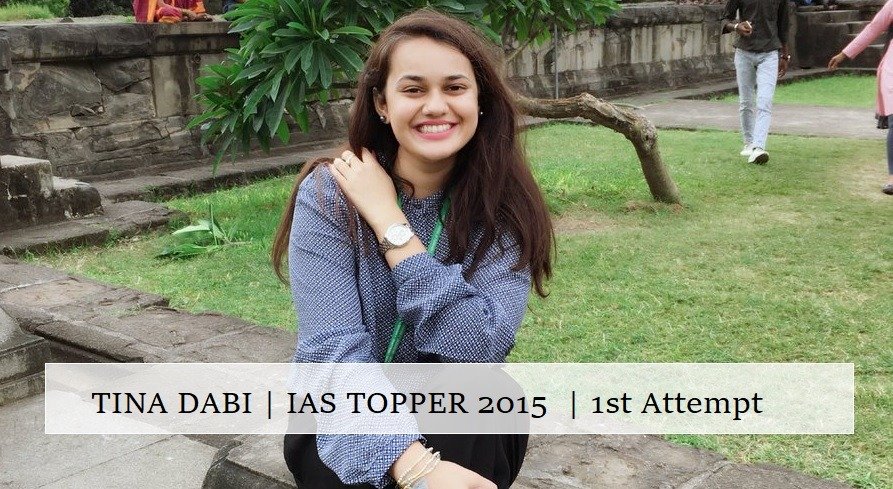 IAS Preparation Strategy & Success Story of TINA DABI
IAS aspirants are often advised to study 24*7 and go into isolation but IAS Tina Dabi who had secured the first rank in the 2015 UPSC exam doesn't believe in this concept.
A proper study plan with an adequate amount of break is necessary for the preparation of the IAS exam. No continuous studying is recommended because this will make you feel bored and tired. You don't want to quit preparing for the exam in the middle, right?
Let's sneak into topper Tina Dabi's study plan to know her strategies better. Note- You can always make personal changes in the plan as per your comfort:
Prepare the study plan in slots. Divide the time of the day in slots so that you can time for both study and leisure. Make a balanced routine.
Don't cut down your sleeping hours from the study plan. Have at least seven hours of sleep. You need to recharge yourself every day to start afresh.
Dabi suggests three-slot divisions: Keep big topics for slot 1, that is, early morning when you are full of energy and focused. Slot 2 is about sleepy afternoons. Pick medium length topics for time and stick for just two hours of studying. Lastly, in slot 3, concentrate on revising the topics you have studied previously.
Your study plan can't work with devoting maximum hours to revision. Dabi recommends revision of topics for at least three times.
A simple and effective strategy is the key to success for Dr. Bharti Dixit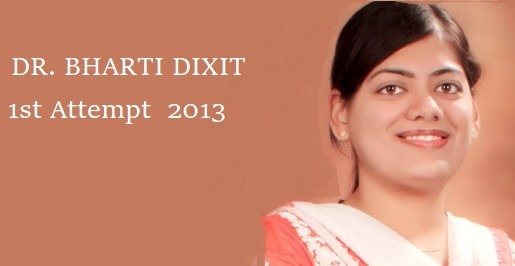 UPSC Preparation Strategy & Success Story of Dr. Bharti Dixit
Dr. Bharti Dixit was the only woman to make it to the top five slots of the UPSC exam in 2013. She secured 5th rank in her first attempt.
If you think that a simple strategy for the preparation of the UPSC exam is a waste of time and doesn't work out then you need to rethink it.
Here are some really simple tips for the UPSC aspirants suggested by the topper Dr. Bharti Dixit:
Know your syllabus first. Spend time knowing what you are going to study or spend your time on.
While writing the answers, you need to understand the examiner's expectations
Having basic knowledge about the subjects you are going to pursue is a must. Make the best use of NCERT books. They are sufficient for developing your basic and conceptual knowledge.
Read 'The Hindu' newspaper every day to catch on the current affairs. To add on more, you can watch Rajya Sabha TV programs.
Stop being negative and believe in your hard work. Only you know your real strengths and weaknesses.
It's good to know about strategies of the toppers but Dr. Bharti advice to not follow other's plans blindly and one must make changes according to his/her comfort.
Put your best. Study with full commitment and dedication.
Don't weigh your study with the number of hours because the quality of study matters more than the number of hours.
IAS Dr. Bharti has completed her education from Holy Child Auxilium Delhi. Later she completed her MBBS from Lady Hardinge Medical College of Delhi.
Final talk
All these toppers have one thing in common all believed in themselves. You must have realized by now that there is no substitute for hard work. If you really want to fulfill your dreams you need to get out of your dreamy world and start giving your body commands to act. Stay focused, determined, and dedicated to your preparation, success is not away.
Also, Have look at UPSC Syllabus and Tricky Questions asked in IAS Interviews in past years.
Check out List of Best IAS Coaching Institutes in Following Cities
FIND TOP UPSC COACHING INSTITUTES IN INDIA
Please share your feedbacks