For aspirants who are appearing for the IAS examination then the understanding of the UPSC Syllabus is a must. Moreover, understanding the IAS Syllabus alone is not enough. You also need to remember it thoroughly.
So you could exactly know what to read and what not to read. Because this is something which will decide the fate of your result. Therefore, this is the 1st step or stepping stone of Civil Services Examination preparation.
UPSC has categorized the IAS exam in three stages and broadly subjects are the same 1st two stages but there is a difference in the exam pattern.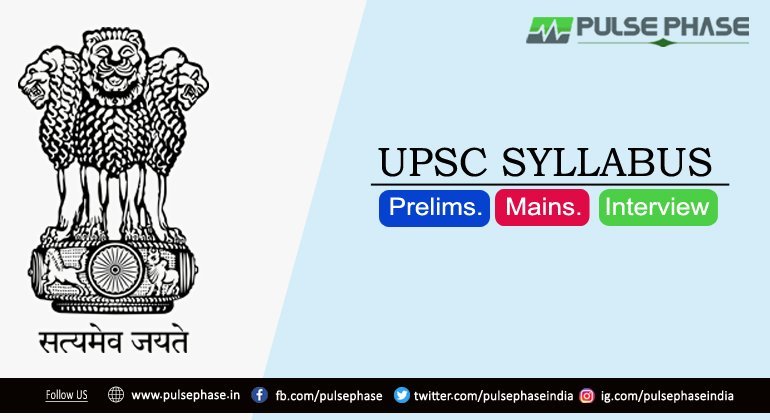 UPSC Syllabus and Exam Pattern
Preliminary examination, Syllabus, Marking pattern & Exam Date
UPSC Prelims, the first exam, is an objective exam, and the Prelims syllabus comprises two papers. We call 1st Paper General Studies and 2nd paper as CSAT which is also known as Civil Services Aptitude Test. These two papers are known as IAS Prelims.
UPSC Prelims Syllabus 2021 – Exam Pattern
However, you just need to qualify for marks in the CSAT examination. Let's understand it with the help of a table
| | | |
| --- | --- | --- |
| UPSC Prelims Exam Pattern | General Studies I | General Studies II or CSAT |
| Number of questions | 100 | 80 |
| Negative Marking | Yes (1/3rd of the maximum marks for the question)-0.66 marks for every incorrect answer | Yes (1/3rd of the maximum marks for the question)-0.83 marks for every incorrect answer |
| Duration of exam | 2 hours | 2 hours |
| UPSC Prelims 2021 Date of exam | 27th June 2021 | 27th June 2021 |
| Language of exam | English/Hindi | English/Hindi |
| Maximum marks | 200 | 200 |
| Cut Off marks | Counted for Merit. Cutoff varies every year. | 33% qualifying criteria (66 marks) |
Check Out the UPSC Exam Calendar here and UPSC Syllabus
Paper I General Studies Syllabus
Paper I is to check your knowledge of General Studies. It checks your basic understanding of History, Geography, Governance, General Science, Economics, and other subjects.
All Subjects which you need to cover for Prelims General Studies
Current Events of Importance across India as well as a globe (Current Affairs)
Indian Polity and Governance
Constitution,
Political System,
Panchayati Raj,
Rights Issues,
Public Policy, etc.
Indian and World Geography
Physical Geography,
Social Geography,
Economic Geography of India and the World
Economic and Social Development
Sustainable Development,
Poverty, Inclusion,
Demographics,
Social Sector initiatives, etc.
General issues on Environmental Ecology, Biodiversity and Climate Change
General Science
Indian National Movement and History of India
Paper-II CSAT Syllabus
Decision-making and problem solving
Logical reasoning and analytical ability
Comprehension
General mental ability
Basic numeracy (numbers and their relations, orders of magnitude, etc.),
Data interpretation (Class 10th Level)
Interpersonal skills including communication skills
Special Note – As Prelims Exams are objective type in nature, it also has a negative marking system. You need to be very selective while choosing your answers. 33 % marks or ⅓ marks are ducted if you choose the wrong answer.
You must remember these subject names and refer to good books to prepare for it. This year the government has postponed the exam from the usual date and you have extra time to prepare for it.
UPSC Syllabus – Mains examination, Marking pattern, optional & Literature subjects
Paper-II is to check the aspirant's academic depth and understanding of each subject. First, you need to qualify for the Prelims exam to sit in the Mains paper. This is where most of the students fail and never make it to the mains list. So you need to be very cautious with both exams.
UPSC Mains exam consists of 7 papers and out of which two papers are optional papers. The Mains exam is of 1750 Marks and is descriptive in nature.
Let's understand it with the table:
| | | | |
| --- | --- | --- | --- |
| Mains Exam Paper | Subject Name | Total Duration | Optional/Compulsory |
| Paper I | Essay Writing | 250 | Compulsory |
| Paper-II | G.S I | 250 | Compulsory |
| Paper III | G.S II | 250 | Compulsory |
| Paper IV | G.S III | 250 | Compulsory |
| Paper V | G.S IV | 250 | Compulsory |
| Paper VI | Optional Subject I | 250 | Optional |
| Paper VII | Optional Subject II | 250 | Optional |
Mains Paper Subjects :
General Studies Paper I Subjects –
Indian Heritage
Culture,
History & Geography of the World & Society
General Studies Paper-II Subjects
Governance,
Constitution,
Polity,
Social Justice &
International Relations
General Studies Paper III Subjects
Technology,
Economic Development,
Biodiversity,
Security and Disaster Management
General Studies Paper IV Subjects
Ethics,
Integrity &
Aptitude
Optional Subjects – There is a list of 48 subjects from which you can choose two subjects.
List of all 48 Optional Subjects
UPSC Language Paper Syllabus and Qualifying criteria
Apart from the above subjects, Union Public Service Commission conducts two more papers. These two papers are mainly to check your Language knowledge. Also, these are qualifying papers only.
| | | | |
| --- | --- | --- | --- |
| Language Paper | Total Marks | Passing Marks | Exam Type |
| English | 300 | 75 | Qualifying only |
| Any Indian Language | 300 | 75 | Qualifying only |
Language Paper Marks Bifurcation
Essay – 100 marks
Reading comprehension – 60 marks
Precis Writing – 60 marks
Translation:
English to compulsory language (e.g. Hindi) – 20 marks
Compulsory language to English – 20 marks
Grammar and basic language usage – 40 marks
UPSC Personality Test or Interview test
This is the last stage of you becoming an IAS/IPS officer. Once you qualify Prelims & Mains both then you are allowed to sit in the interview.
Generally, this interview is of 30-45 minutes and a panel of 5 members conduct this interview.
Though there is no defined UPSC syllabus for the interview round overall it checks several life skills of an aspirant. Interviews are asked to fill a questionnaire which is used as a reference document for your interviewees. Many interviewers ask questions revolving around that particular reference paper. So what you write in that questionnaire is very important.
Below are a few points to give you a brief about interview level:
Interpersonal & communication skills – If you wish to become an IAS officer then you should be able to understand and communicate well. There is a fear amongst students that interviews are to check your English but it's not true. UPSC checks your ability to communicate in your own chosen language.
Decision-making ability – Decision making plays an important role in day to day life of an IAS officer. You should be clear, concise, and confident with your thought process. Your decisions will impact thousands of lives once you become a civil servant thus, it's very important your decision-making ability is sound.
Optional Subject Command – There will be an expert of your optional subject sitting in the interview committee. So you may expect a good amount of questions pertaining to your optional subjects. Sometimes, interviewers also ask on what grounds you chose your optional paper.
Your overall behavior – This is last but not the least. You need to remember that UPSC doesn't make IAS, they hire IAS so your overall behavior should be like a bureaucrat. You are judged psychologically so you should be prepared with all types of questions in the interview test.
Final words
To summarise, it's a test of overall personality as the name suggests but this is a very later stage of the exam. Clearing Prelims and Mains Exams are very tough because of the vast UPSC syllabus and never-ending current affairs.
Clearly, you should make a separate strategy for covering the current affairs because most of the questions in Mains and Interview are asked from recent events of India and the World as well.
You should at least give 30-45 minutes daily on Current affairs and its note preparation. If you cover current affairs well then you are more likely to succeed in this exam with ease. There are many toppers who have cleared this exam in just one to go with the right set of preparation and strategy.
Also Read: How to start your UPSC preparation from Scratch
You should take a 360-degree approach for your UPSC preparation and should not let go of any topic which is relevant to your IAS exam. This is the mantra of success to clear the UPSC exam.
Useful Articles
Please share your feedbacks