Yes! Now there is no need to travel long distances and prepare for the IAS examination. Wondering what I mean? Here, in this blog post, I am talking about the List of Best Websites for IAS Preparation that can make your life easy.
Before that, you need to know something important…
For the next few minutes, please stop thinking about classroom coaching. Do not worry about paying huge fees for UPSC coaching centers.
Many top brands have already launched websites in the market. That's wonderful! You can sit at home and prepare for the civil services exam.
Can you even believe this?
You have to because these online websites for IAS Preparation are delivering the best preparation guidance and study materials. What will you need to get started? Mobile! Keeping the mobile in hand, prepare for the entire syllabus through the internet medium.
You might find it new to use online platforms like websites or mobile applications. However, we all must agree with this fact! It is not difficult than traveling all the way to another city and seeking regular coaching from top IAS institutes.
Continue reading…
You will figure out the benefits of online IAS preparation and the best websites, to begin with.
Benefits Of Choosing Online UPSC Exam Preparation
Interactive Video Lectures
Experience the best on-demand videos. In fact, you will get a chance to learn from the subject matter experts and professors from Delhi. Is it not an amazing opportunity for serious aspirants?
Be careful to choose only the right online UPSC coaching. Once you find out the trusted resource, there is no need to worry about the completion of the syllabus.
Do you want both prelims and mains coaching? Or do you prefer only one of them? Any option is fine! The concepts are explained in depth.
Get help from these excellent video sessions and study from your home. There cannot be a comfortable place than your home! Am I right?
In the case of online coaching, it is possible to watch the videos any number of times. Repeat watching until the point of time you understand. This way, the process of revision also becomes easier.
Economical Option
Did you notice? The amount you pay for IAS online coaching is so much less than regular classroom coaching. If you have the power of self-studying, this should be an excellent opportunity to save money.
Gain Time Freedom
This is one absolute thing most IAS aspirants love about online coaching. You are a free bird in terms of time constraints. There are no fixed class schedules. You are absolutely free to take up the classes as per your own timetable.
Nobody forces you to be in front of the lectures at any particular time of the day. Study during day or night. It doesn't matter.
Comparative Preparation
Yes! This is the most unique aspect of online coaching. The websites have a platform that enables the students to compare their scores in mock tests with other competitors.
How can you use this platform efficiently? Here is a way! Attend the mock tests. Anything between the prelims and mains. Later, compare your scores with other toppers. Build confidence and be prepared to face the real exam well in advance.
Excellent Updates On Current Affairs
You cannot imagine the guidance provided by the online websites for current affairs. It is a dynamic subject. You are already aware of it. They deliver knowledge and promise frequent updates. Isn't that the best way to prepare for the subject of current affairs?
Useful Best Websites That Offer Free IAS Preparation Guidance
The way students prepare for the UPSC exam has changed a lot. Why did it happen? The emergence of brilliant online websites is the primary reason.
Nowadays, candidates do not depend only on books for learning resources. There is something awesome to rely upon. Grab the internet platform and leverage it in your online UPSC exam preparation.
Is it possible to prepare online without wasting time?
Certainly, you can! Firstly, you will need to learn about the best websites for IAS preparation. The list is given below along with a brief description.
There are several reliable websites that can help you with UPSC (Union Public Service Commission) preparation. Here are some popular ones:
List of Best Websites for IAS Preparation 2023
www.unacademy.com
www.legacyias.com
https://aksias.com/upsc-coaching/
www.insightsonindia.com
www.Iasbaba.com
www.thehindu.com
www.mrunal.org
www.ClearIAS.com
www.iassquad.in
www.ncert.nic.in
www.iastoday.in
www.mea.gov.in
www.iassolution.com
www.forumias.com
www.upsc.gov.in
www.chronicleias.com
www.iaseducator.com
www.iasexamportal.com
www.onlinetyari.com
www.gktoday.in
www.iasscore.in
www.pdgroup.in
www.byjus.com
www.civilsdaily.com
www.Jagranjosh.com
www.idsa.in
www.yojana.gov.in
www.indiagovernance.gov.in
www.onlyias.com
IAS Forum Websites
upscforums.com
IAS Toppers Blogs
Remember, while these websites can provide valuable resources, it's essential to have a structured study plan, refer to standard textbooks, and stay updated with current affairs from reliable sources. Additionally, you may also consider referring to official UPSC sources like the syllabus, previous years' question papers, and the official website (www.upsc.gov.in) for accurate information and updates.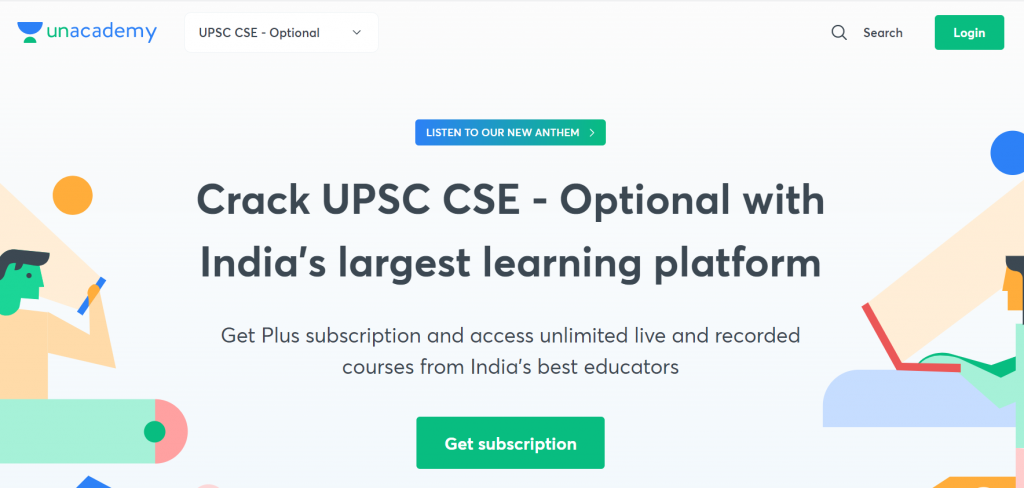 #1.Unacademy – Best Website for IAS Preparation
Unacademy.com is one of the Best Websites for IAS Preparation in India. This website is listed at 1st position among the other UPSC Preparation website. Apart from the IAS/UPSC Preparation Uncademy offers comprehensive courses and preparation guides for SSC, IIT JEE, CAT & more exams. It provides live interactive classes for UPSC Preparation
Unacademy.com has been established by UPSC Toppers who chose to leave their IAS jobs. They have started this academy with the aim of training more IAS Officers in India with their personal experience in the IAS field.
If This Academy is your best choice to join. Here we can help you to get an Extra 10% discount on all courses. whichever you want to join.
Website: https://unacademy.com/

#2. Legacy IAS Academy – Best Website for IAS Preparation
Legacy IAS Academy is a pioneer UPSC Coaching platform in India. It is a group of retired IAS/IRS officers and that makes Legacy IAS unique in comparison to other institutes. It is considered the best website for IAS Preparation in India.
A unique pattern of extracting current affairs, small batches, and a detail-oriented approach makes Legacy IAS as Best Choice for IAS Preparation.
Legacy IAS provides free study materials to its students. The UPSC Study materials are available on Legacy IAS websites for download and regular reading. You can visit this website daily and enjoy your reading.
Study Materials links are below:
Legacy IAS Academy – Drive Location
Address: #1535, 39th Cross Rd, Kottapalya, 4th T Block East, Jayanagara 9th Block, Jayanagar, Bengaluru, Karnataka 560041
Phone: +91 9606900005
Email: [email protected]
Website: https://www.legacyias.com/

#3. Insights – Best Website for IAS Preparation
Insights IAS is one of the Best websites for UPSC preparation in India and this website is dedicated to online IAS preparation. With the help of dedicated study materials, aspirants are made to attain success.
Did you know that Insights provide daily basis IAS study materials for answer writing, current affairs, and quiz? Check out their testimonials. Students seem to be very happy about the quality of knowledge delivered.
They have a team of professionals who take care of producing recent posts regularly. Keep track of them and get updated news about the civil services exam.
Website: https://www.insightsonindia.com/

#4. IAS Baba – Best Website for IAS Preparation
IAS Baba is the unique platform to prepare for the UPSC exam. They help the candidates with the mind map analysis. The most effective strategy for aspirants to memorize.
Most importantly, they offer regular updates of Rajya Sabha Video analysis, all India radio discussions, and dedicated course programs.
It is just amazing to see success stories of all the candidates who scored top ranks. It is all because of the regular practice sessions.
What are they?
It includes daily prelims quiz, interview discussions, think and learn the platform. Give it a try if you like their concept and teaching methodology.
Website: https://iasbaba.com/

#5. The Hindu – Best Source for IAS Preparation
You must already know about The Hindu. Am I right? It is the preferred newspaper for IAS aspirants. However, they also have a dedicated website. This is also one of the Best Websites for UPSC preparation.
The best platform to read daily editorials. Get a chance to go through even the opinion articles in one place.
Which topic do you want to analyze on The Hindu website?
Choose the topic of the article and search on the website. It is as simple as this! Take anY important current issue into consideration. This is the easiest way to execute a progressive study plan.
Website: https://www.thehindu.com/

#6. Mrunal
Mrunal is again an excellent website for online UPSC Exam preparation. It takes care of prelims, mains, and interview preparation. The website owner discusses all the important questions in the form of blog posts.
What does this website offer?
Along with guidance, it also offers great study materials for civil service aspirants. If you have confidence in self-study, this is the best place to get fixed.
Website: https://mrunal.org/

#7. Clear IAS – Best Website for IAS Study Materials and Preparation
Are you a beginner in IAS preparation? Get started with Clear IAS. There are plenty of high-quality study materials and other important downloads.
Do they offer guidance to purchase IAS books?
Yes. Definitely! They do in-depth research and guide you throughout the preparation period. Follow the mock exams regularly.
Mainly, Clear IAS follows the test-based approach. It is the perfect blend of learning and testing.
This is also the best website for IAS preparation and you can reach it through: www.clearias.com

#8. IAS Squad
IAS squad is a brilliant website for online IAS preparation. What is so unique about this platform? They have a well-researched set of e-books available at an economical price.
Apart from that, they offer good guidance in terms of preparation, current affairs, answer writing, and newspaper analysis.
Website: https://iassquad.in/

#9. Ncert.nic.in
IAS candidates are already dependent on NCERT books for the foundation. It is a well-known fact. Get the complete resource for NCERT in one place.
On this website, you can read and make notes. However, they will be having PDF copies of NCERT books. It includes books from grades 6 to 12.
Website: https://ncert.nic.in/

#10. IAS Today
Grab a chance and access the free resources to current affairs, video classes, and study materials. They are popular for offering the best prelims and mains test series.
IAS Today has plenty of courses in the form of a membership plan. Visit their official website to learn more and enroll if you find it interesting.
The other services it provides include monthly notes from The Hindu newspaper, PIB monthly magazine, and answer writing contest. Go through their services and choose the one you need.
Website: https://iastoday.in/

#11. Mea.gov.in
You can already guess it from the website name. It is a government website. In the first place visit this website. You will get information and updates about PMO visits.
Also, it is a great source to learn about MOU signed by the Indian government. Plan your study time well. Based on the priority, choose the resource platform wisely.
Website: https://mea.gov.in/

#12. IAS Solution
You have found a reliable online platform that helps aspirants to crack the IAS exam with ease. Expect all the information about UPSC syllabus updates and systematic guidance from experts.
They also have a mobile application to provide the highest level of comfort for students. How can you use this platform productively?
Go through the UPSC news daily and attend the quiz/test series. The mock test series by IAS solution has proved to be the best. Why don't you try?
Website: https://www.iassolution.com/

#13. Forum IAS
Here, you are learning about the online portal for IAS preparation. Seek the right inputs from the platform and build your dream career perfectly.
What is the strength of Forum IAS? They give the highest importance to current affairs analysis. So, they have an exclusive daily editorial section. It is not offered by any other website.
Website: https://forumias.com/

#14. Upsc.gov.in
Upsc.gov.in is one of the Best Websites for UPSC Preparation and To keep yourself updated with exam calendars and important notifications. Also, this is only a government platform to get the previous year's question papers. IAS exam demands a candidate to thoroughly understand the question paper pattern.
Along with the question papers, you will need to visit the website regularly. Why? They provide important updates about the UPSC exam. The best place to learn about recent information.
Website: https://upsc.gov.in/
Conclusion
It is not easy to find accurate information about online UPSC preparationon the internet. There might be thousands of resources. But, which website provides you the reliable information?
What happens if you do not get proper guidance?
Students end up in confusion! Ultimately, you will not know what to read and what to ignore. I felt it is a tricky task to find suitable online websites for IAS preparation.
Keeping this in mind, here is a blog post for you. Go through the list. Avoid wasting your precious time. Fix one or two websites and plan your preparation.
Useful Articles to Check
Please share your feedbacks