What's that one thing which everyone in your family requires day in and day out? And also, what about that one thing that acts as a glue between you and your siblings? Of course, that's the Internet Connection (Best Broadband Service Providers in India). What else does our life depend upon today, right?
As long as we, millennials, have an active internet connection with high speed, everything is perfect. It is the broadband internet connection at home which has held our families together. But what is actually broadband and more importantly, how do we decide the best broadband service, provider! This is what we are going to discuss in the article.
Table of Contents
List of top 10 broadband service providers in India
DEN broadband
Airtel
BSNL
Hathway
Hayai
Act Fibernet
You broadband
Spectranet
AsiaNet
Jetspot Fibre
Go ahead and choose the best for yourselves because that's what you deserve.
Before getting to the term Broadband Internet Connection, let us first get to the meaning of the word, "Broadband". Broadband refers to high-speed internet access, which is always switched on and is faster than traditional dial-up access. The technology has got its name as a result of the broadband of frequencies which is available for information transmission.
Information can be multiplexed and sent on several channels and thus, allowing more information to be transmitted at a given time.
Broadband allows you to access the Internet and the related services at increased speeds than those which are available through dial-up internet access services. The rate of the Internet varies based on the type and level of services offered.
High-speed broadband internet in India is catching up with the rest of the world. In India, you don't get several options when it comes to high-speed internet as the speed promised and actual speed delivered are entirely different.
When you have an entire array of internet providers to choose from, choosing the best one which fetches more data becomes a task. Majority of telecom providers provide you with huge data benefits which should suffice one's needs. Having a solid internet connection at home is not enough in today's time since it comes with a finite amount of data. However, broadband widens the horizon and plans. With a flurry of service providers, one needs to think and consider before choosing the most appropriate one.
Since the emergence of Wireless Connection or Wi-Fi, it is essential to choose the right broadband provider and then the plan, of course. As easy as it sounds, it is not a kid's game to get the right combination of speed, cost, download allowances, and contract length.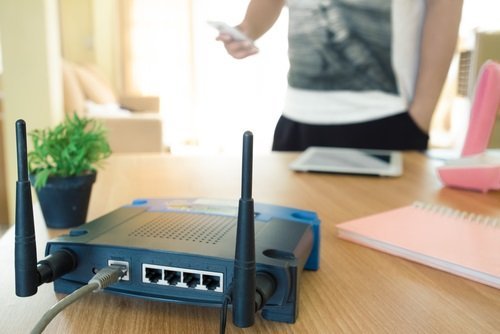 To make this task easier for you, we present you with a list of top ten broadband service providers in India.
#1 DEN Broadband
DEN networks is a dynamic mass media and entertainment company which thrives on providing unmatched visual entertainment to its customers. It integrates entertainment, technology, consumer trends, and customers' preferences to elevate their experiences. This network is one of the fastest-growing fixed broadband service providers in India. In very less time, Den Broadband has managed to come at par with the leading internet service providers such as Airtel.
Whether need high speed, minimal downtime, or flexible monthly plans, Den Broadband tops the charts. Another added advantage of this service provider is that you need to recharge your broadband connection, which means if you don't need the connection for some time (perhaps during exams or while you are traveling), simply skip the recharge and get restarted whenever you want to.
Den Broadband Plans
| | | | | | | |
| --- | --- | --- | --- | --- | --- | --- |
| Plane Name | Speed Mbps | Monthly Data limit | Post FUP Speed | Validity | Rental (Rs.) | Rental + GST (Rs.) |
| Plan 1 | 50 Mbps | 30 GB | NA | 30 Days | 349 | 412 |
| Plan 2 | 10 Mbps | 300 GB | 2 Mbps | 30 Days | 599 | 707 |
| Plan 3 | 25 Mbps | 300 GB | 5 Mbps | 30 Days | 799 | 943 |
| Plan 4 | 50 Mbps | 300 GB | 10 Mbps | 30 Days | 999 | 1179 |
#2 Airtel
Airtel Broadband is present in almost all parts of the country and offers their customers a range of high-speed internet plans. Their plans just covers the cost of Rs.1000 and provides you with 40Mbps broadband speed with a FUP of about 90GB. Undoubtedly, the services are great but the prices are on little higher side as compared to other service providers

#3 BSNL
BSNL, a state-owned company provides you with a wide range of plans which can keep you in a dilemma, to be honest. Most of its plans offer 4Mbps to 8Mbps of speed, however, there are plans which offer speed up to 24Mbps. You also get unlimited download plans with no limit save for a speed drop after a set cap.
#4 Hathway
Hathway is one of India's leading Cable Broadband service providers which holds a PAN India ISP license. Hathway Cable & Datacom Limited was the first cable television services provider to offer High-speed cable broadband services in India across 16 cities (4 metros and 3 mini-metros), having more than approx. 5.5 mn Home passed and 0.77 mn Subscribers as on Q1FY19.
Though this network is not as widespread as Airtel or BSNL, it does offer a few pretty decent plans. The plans are quarterly in this network and thus, you pay for three months in a go. Hathway's plans can vary from city to city.
Hathway Broadband Plans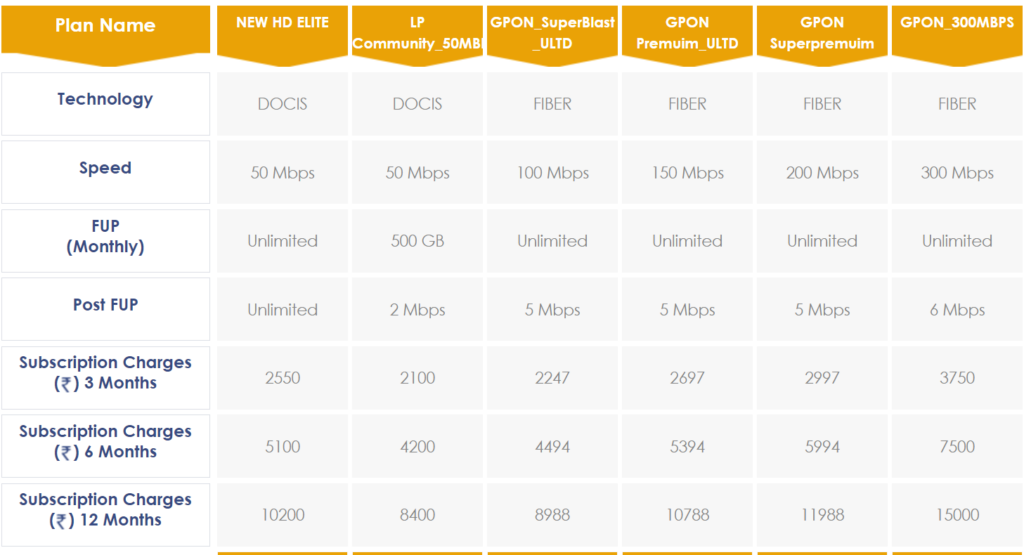 #5 Hayai
Hayai started its operations in 2011, soon, it gained popularity due to most pocket-friendly prices and high speeds, with rental plans starting from Rs.899. This service provider also an arcane 95 per cent billing plan along with the eating plans, based on the reviews of users on broadband forums in the country.
#6 ACT Fibernet
This broadband service is mainly catered in South India, although ACT is now available in metro cities like New Delhi as well. ACT (Atria Convergence Technologies Pvt Ltd.) and is one of the largest non-telco ISP in India. The company offers fibernet, digital TV, and HD TV services, with reasonable monthly tariffs. Since ACT uses fibre-to-the-home technology, there is no need of having a separate modem or a land-line phone. It can be directly plugged straight into a PC with an Ethernet port, following that you are required to login to web portal with account ID and password.
#7 YOU Broadband
This service provider offers broadband services which requires cable modem to operate. YOU caters to SME, residential, and corporate customers. This provider offer services in the states of Maharashtra, Gujarat, Haryana, Telangana, Karnataka, and Andhra Pradesh. While personal choices may vary, most of the Reddit users seem to choose YOU Broadband over ACT Fibernet (or any other broadband connection, for that matter)
YOU Broadband Plans

#8 Spectranet
It claims to provide truly unlimited broadband with no caps or data consumed. It provides a SUCCESS UNLIMITED plan which provides 50Mbps speed. Few years back, Spectanet used to be one of the leading internet service providers. But with many others offering high-speed internet plans at affordable pricing, Spectranet has lost its grip on home segment. Although, many SMEs and corporate, still rely on Spectranet due to its good services
#9 AsiaNet
This service provider is operational in 14 districts of Kerala and Tamil Nadu. It offers FTTH/DOCSIS 3 connections with plans at an affordable price. The ISP is notable for providing a FUP breaker, which is higher than the monthly usage limit.
#10 Jetspot Fibre
It offers FTTH (Fibre-to-the-home) plans starting at a very affordable price. This service provider was founded in 2015 and started the promotional plan called FIBRE NITRO for Rs. 999 which provided the users with speed up to 100Mbps up till 10GB, and 1Mbps unlimited speed post the data cap.
Bottom Line
This is a well-researched list of top 10 broadband service providers in India. What you need to understand as a consumer is that the plans mentioned above may vary from city to city. And also, all these service providers are not accessible across India, some of these are region-specific. Rest is up to you which broadband service you want to use. Our advice is that you should choose one which suits your requirements the best.
Broadband internet connection is no longer a luxury in the residential segment, it is more of a necessity since the times are advancing and also, let's face it; lots of people prefer to stream online more than going to the theatres. Not only residential but also corporate and all the other industries require broadband connection nowadays.
Hopefully, this list will be helpful to you in terms of choosing the best broadband service provider available in your region. You must assess and compare the service quality, monthly rentals, and the speed offerings before buying a connection for yourself.
Check : Top Digital Marketing Institutes in Noida
Please share your feedbacks