Historical background of Vajiram and Ravi
Vajiram and Ravi is India's Best IAS coaching in Delhi. The institute was incepted in 1976 under the stewardship of Prof. P. Velayutham and is situated in the Old Rajinder Nagar, Delhi. It has played a significant role over the years to turn aspirants' dreams into the reality of acquiring the coveted job of being an IAS, IPS, or IFS officer.
The number one position held by this coaching center for more than forty years reflects the unparalleled guidance delivered to the candidates. It further underscores the aspirants' unshakeable conviction instilled in this institute for these substantial numbers of years.
Experienced teaching staffs
The rich academic background of Prof. Velayutham, the director displays the quality of guidance promised by this coaching center. He has earned substantial educational accolades both within India and from abroad. The teaching staffs at Vajiram and Ravi have specializations in their respective domains and have gathered teaching experiences from reputed colleges and universities.
In order to ensure that every subject is covered with adequate details, at least two teachers are allocated per subject. For instant, the institute has almost ten teachers for the general studies papers. Furthermore, the management has dedicated a separate center for monitoring correspondence education that deals in the preparation of reading materials for fulfilling the coaching requirement of students residing in other states.
Courses offered by the Institute
Vajiram and Ravi offer both classroom and correspondence courses for IAS Exam Preparation and this section will highlight the differential features and availability of these courses.
Check out:- Legacy IAS Academy | Review of Elite IAS Academy
Classroom courses for everyone
While the UPSC examination is becoming more challenging with every passing year, students have shown reinvigorated interest in attending classroom courses. This method of coaching is beneficial to supervise the preparation process of each student with adequate attention. It further empowers the students to have tangible accessibility to doubt clearing and feedback sessions.
In this regard, Vajiram and Ravi has three sessions in place and these are the May session, the July one and the last session is in August. These cover syllabus of the general studies for prelims and mains, the aptitude paper for prelims, and the optional papers.
Students must not get lured by fake advertisements of IAS coaching under the name of Vajiram and Ravi since it provides classroom coaching at its Delhi center only. On availing of this course, you will be provided with study materials, classroom lectures, and the test series. The approximate fees charged for these classroom courses are Rs. 1, 60,000.
The courses offered by the management of Vajiram and Ravi cover maximum subjects such as Geography, Sociology, Economics, Public Administration, and History. Candidates can also find a crash course on medical science and test series on it.
Postal Course for UPSC Preparation
Despite all the advantages attached to classroom coaching, there are still students who either cannot travel or afford to come to Delhi for proper mentoring. For them, postal courses designed by Vajiram and Ravi are a boon for IAS coaching.
Almost all the topics of the UPSC syllabus and the reading materials thereof are covered in the postal course. Moreover, the updated books are delivered at a periodic interval so as to ensure there are no lacunae whatsoever in a candidate's preparation process.
UPSC IAS Fee Structure – Vajiram & Ravi
| | | |
| --- | --- | --- |
| Course Name | Course Fees | Course Duration |
| General Studies Prelim-Cum-Mains | 160000 | 36 Weeks |
| CSAT | 19000 | 12 Weeks |
| Optional Subjects | 50000 | 16 Weeks |
Vajiram and Ravi Study Material
The materials for general studies can be obtained for approx fees for Rs. 9000. As far as the current affairs materials are concerned, one can subscribe to the magazine 12 copies (monthly) from May 2021 to April 2022 in exchange for approximate fees of Rs. 1500/-.
Vajiram and Ravi do not leave out the aptitude test section at any expense and offer guide materials for a nominal charge of Rs. 1000 approximately. However, the aspirants have to bear in mind that these study materials are available in English only and are eligible for delivery within India solely.
Current Affairs for UPSC IAS Exam 2022 – Vajiram & Ravi
It is a widely known fact that current affairs are the heart and soul of the UPSC examination. The management of Vajirama and Ravi is aware of students' anticipation surrounding the current affairs and thus has brought before you the online materials especially catering to this domain. Instructors compile important news updates on a monthly basis and further provide test sessions for gauging your preparation level.
In order to reduce the hassle of covering endless magazines, the institute also furnishes the candidates with Yojana and Kurukshetra magazines' summaries. These assist you in preparing for general studies paper (both prelims and mains) and improve essay writing capability.
In addition, it houses a repository of previous years' question papers which are sure to add convenience to one's IAS preparation for the upcoming exam.
Check out:- Best IAS Interview Questions
Interview Guidance Program for UPSC CSE – Vajiram & Ravi
The interview test is as challenging as the preceding two phases and it demands experienced supervision for necessary improvements. Over the years, students have benefitted significantly from the interview mock tests conducted by the stalwart faculties of Vajiram and Ravi.
These mock sessions replicate the pattern and decorum of a real interview test thereby allowing the candidates to garner enough experience before facing the UPSC board.
Vajiram and Ravi make it point to provide the right IAS Interview guidance to students by studying their overall skills that go beyond simple knowledge acquisitions. Their experienced interviewers put forward questions in a conversational tone and through which they judge your temperament and demeanor.
Based on your performance, you will be advised for incorporating certain required improvements. The program provides the candidates with four classes, two interview mocks, and one personal session.
Achievements of Vajiram and Ravi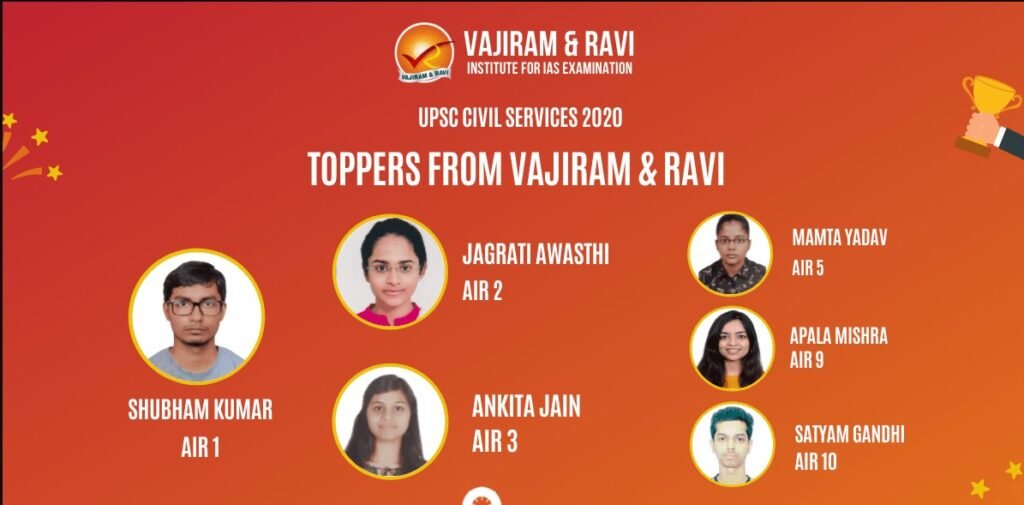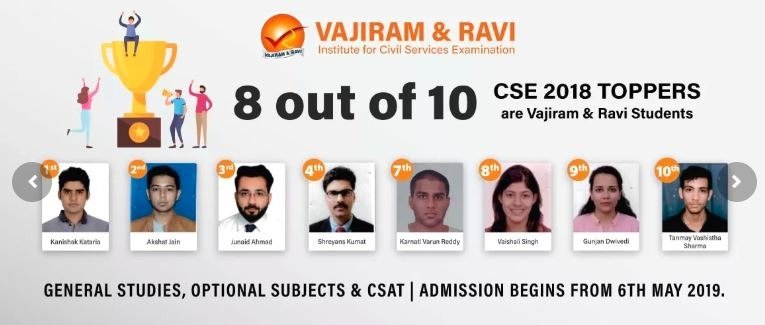 The UPSC toppers list features students of Vajiram and Ravi almost every year. Apart from acquiring maximum ranks in the top ten, there are several other candidates who crack other coveted services and secure notable positions in the merit list.
This year 6 out 10 IAS toppers are Vajiram and Ravi's students and in 2019 8 Students out 10 were from Vajiram and Ravi. The Names of them are (KANISHAK KATARIA 2018 – UPSC Rank 1), (AKSHAT JAIN 2018 – UPSC Rank 2 ), (JUNAID AHMAD 2018 -UPSC Rank 3) (SHREYANS KUMAT 2018 – UPSC Rank 4), etc.
The 2016 topper, Nandini KR had been a student at this prestigious institute. A similar phenomenon was noticed in 2017 as well, when Anudeep Durishetty, secured the first position.
Although it does not provide a hostel facility currently, the institute provides important contacts for students seeking accommodations nearby. If you are aiming to ace the upcoming UPSC Examination next year, then opting for Vajiram and Ravi is the ideal choice.
Check out the List of Top IAS Coaching Institutes in top Cities of India.
Delhi|Mumbai|Bangalore|Chennai|Ahmedabad|Hyderabad | Bhubaneswar
Disclaimer:The content on this page is a compiled result of Pulse Phase's Research team and the ranking is based on the criteria and guidelines set by Pulse phase and not in any way related to rankings done by governmental bodies. It is purely third-party research work.
Please share your feedbacks