Sanjita Mohapatra IAS – UPSC CSE 2019 All India Rank 10th Shares Her UPSC Preparation Strategy how she topped the UPSC Exam 2019.
There is nothing you can achieve without a battle. Victory always lies around the corner for those who never give up. It belongs to the most persevering. UPSC is all about making your dreams come true. Aspirants from all over the world spend years preparing for the UPSC CSE exam. Only a few get to achieve their dream.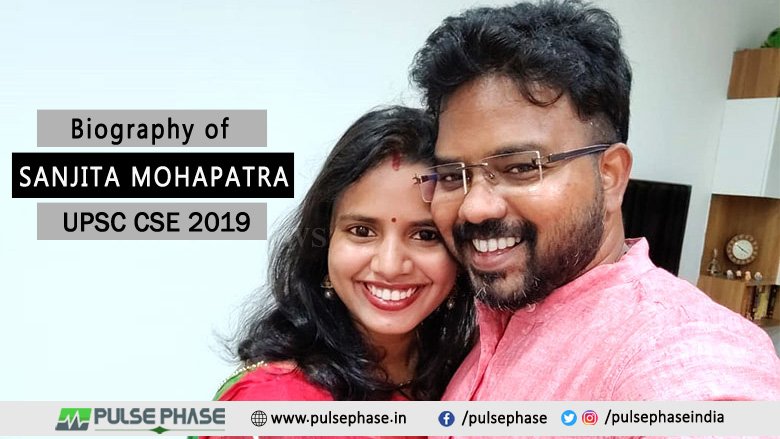 Biography of Sanjita Mohapatra IAS
Today we are going to talk about Sanjitha Mohapathra who scored All India Rank 10th in UPSC CSE 2019.
Sanjita was born in Sundargarh and later shifted with her family to Rourkela. She completed her schooling from Rourkela. Sanjita has always been a meritorious student, and completed Mechanical Engineering from CET Bhubaneswar.
Sanjita dreamed about getting into IAS since her childhood and becoming a collector. She slowly became more aspired to pursue her dream. After completing her bachelors, Sanjita joined as a Trainee (Technical) in SAIL, Rourkela Steel Plant in 2013. She served there until 2018 as an assistant manager. Sanjita left the job to prepare for the civil services examination.
Sanjita got married in 2017 to Biswaranjan Mundari who is a manager at the RBI in Mumbai. She left her job and shifted to Mumbai post her marriage.
Sanjita also cracked the Odisha Administrative Service (OAS) examination and secured second position in the state of Odisha. She had also qualified for the Odisha Public Service Commission. However, she did not join the job to focus on her preparation for UPSC.
Sanjita's father Shaktipada Mohapatra is a retired government employee. Her mother Anjali is a homemaker. Sajita's sister Sarita works with BHEL at Bengaluru. Sanjita's family supported her through her UPSC Preparation. This became a motivation for her to try again even after her failed attempts in the examination.
More About Sanjita Mohapatra IAS Journey
Let us walk you through the Journey of Sanjita Mohapatra to being a topper in the UPSC 2019 CSE exam.
Success is not always about achieving results. It is about the journey that leads one towards their goal. Success is about the consistent hard work and determination to make their dreams come true.
Sanjita was 22 when she cracked the SAIL examination to become a junior manager in 2013. At SAIL RSP, her work included field maintenance in which she was supposed to work in shifts and manage people double her age. She resigned from the company in 2018 to pursue the civil services examination.
Sanjita cleared the UPSC CSE exam in her fifth attempt. Her preparation for the UPSC exam started while she was in college. Even after her failed attempts, she did not give up. Her childhood dream kept her going, and she finally cleared it in 2019 with flying colors.
Sanjita gave three attempts during her college time in which she could not clear prelims. At first, she was very confused about what books she should use to study. In her first three attempts, she got a fair idea of what was the demand for the examination and how one should prepare for the exam. Due to her lack of revision and preparation, she could not clear the preliminary examination in her first three attempts.
In her fourth attempt Sanjita was prepared to give the examination. However, she faced troubles in managing her job along with her studies for UPSC CSE. Therefore she resigned from her job to pursue her only dream to become an IAS officer. Unfortunately, In her fourth attempt, she could not pass her mains examination. On the fifth attempt, Sanjita was well prepared and confident that she could crack the exam.
IAS Preparation Strategy of Sanjita Mohapatra
The most important thing in an Aspirants journey is the strategy that they used for their UPSC preparation. Sanjita Mohapatra IAS believes that one should follow their own strategy. However, aspirants who do not have any idea about UPSC or how to prepare get to learn a lot from the strategy of the Aspirants that top the examination.
Sajita developed a habit of reading newspapers regularly since college. After joining her job, she started preparing with basic NCERT books, polity, geography.
Sanjita attributed her success to self-study. She chose Sociology as her optional subject and availed a three-month crash course to master the subject. Sanjita started preparing a weekly schedule and achieving the targets on time. She shared that one should not study for long hours at a stretch. This was her key to crack the examination.
Sanjita believed in quality time spent on studying. She never stressed on the number of hours she studied. She also shared that aspirants should not focus on hours, but rather on the target they have to complete.
During her final attempts, Sanjita started making notes from NCERT books, and short key points. She also used limited sources for her current affairs and relied on newspapers. Sanjita also gave a lot of importance to essays and used to practice them with dedication after her prelims exam.
Sanjita did not prepare a daily timetable. She set monthly targets for all subjects. Every night, Sanjita would evaluate whether she was on the right track to achieve that target. Through this strategy, she was able to get an All India 10th Rank and made everyone proud.
Sanjita wants to contribute towards the development of the KBK region and tribal hinterlands.
Read More: Top 10 Best IAS Coaching in Delhi
Frequently Asked Questions About the UPSC Topper 2019
Question 1- What is Sanjita Mohapathra's strategy to become an IAS topper in the UPSC exam?
Answer – Sanjitha Mohapathra IAS worked on the below strategy to top the UPSC Exam.
Aspirants should spend quality time rather than quantity time towards their preparation.
Essay practice holds the utmost importance in the UPSC exam.
Read study material relevant to the syllabus and make short notes.
Study NCERT coursework books of class 10 and 12, and revise.
Keep yourself updated with current affairs and the latest news.
Use limited sources for her current affairs, and read newspapers.
Set targets and evaluate whether you have achieved them.
Question 2 – What is IAS Sanjitha Mohapatra Rank in the UPSC exam.
Answer – Sanjitha Mohapathra passed the UPSC exam 2019 with AIR 10 Rank in the IAS exam out of the 829 IAS Candidates.
Question 3 – What is the age of Sanjitha Mohapathra IAS?
Answer – Sanjitha Mohapatra is 30 years of age.
Question 4 – What was the optional subject of Sanjitha Mohapatra.?
Answer – Sanjitha Mohapathra selected Sociology as her optional subject.
Please share your feedbacks