Ravi Jain IAS – UPSC CSE 2019 All India Rank 9th Shares his UPSC Preparation Strategy how he topped the UPSC Exam 2019.
The only limit to the height of your achievements is your willingness to work for your dreams. We often dream big, and tread the path to success but give up after our failures. Success begins after you get back on your feet, and work harder towards your goals.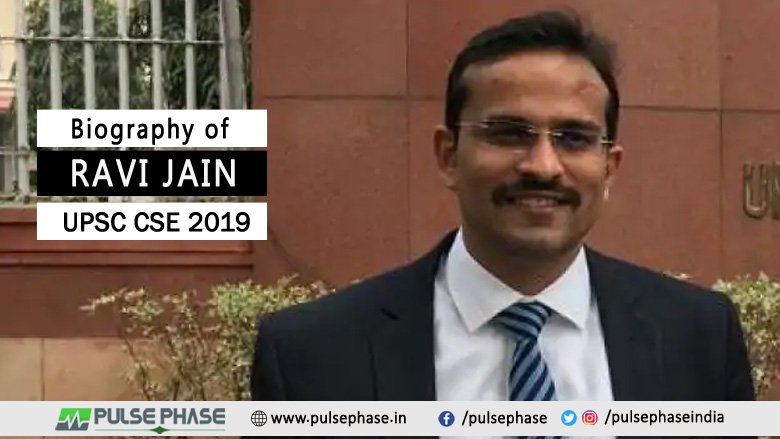 Biography of Ravi Jain
Today we are going to talk about Ravi Jain who scored All India Rank 9th in UPSC CSE 2019. He did not give up even after his failures in the first three attempts ,and cleared the UPSC CSE 2019 exam in his fourth attempt. Aspirants all over India are inspired by his journey.
Ravi belongs to a town Deoghar in Jharkhand. Ravi's father Ashok Jain has a business in food grains. His mother Mangala Devi is a housewife. Ravi completed his schooling from St. Francis School in Deoghar.
In 2012, he completed his Bachelor of Engineering in Instrumentation & Control from Netaji Subhas Institute of Technology, Delhi. Ravi was motivated to pursue engineering by his elder sister. She is the first engineering graduate in the family. Ravi got selected for Bechtel India Limited, and worked there for three years.
In 2015, Ravi felt that he was not adding any value to his life. He felt that he had become salary oriented while working for Bechtel India Limited. Ravi quit his job and started preparing for Civil Services. He realized that he had always wanted to become an IAS officer. Ravi started preparing for his UPSC CSE exam. Unfortunately, he could not qualify the first three attempts.
More About Ravi Jain IAS Journey
Ravi has made a name for himself ,and his family by scoring an All India Rank 9 in the UPSC CSE exam 2019. The biggest factor behind his success was his determination to not give up and chase his dream.
Ravi could not clear the mains exam in his last two attempts. After the third attempt, Ravi gave the Bihar Public Services Examination (BPSE). He cleared the exam in 2019 and started working as a State Tax Officer in Jamui District, Bihar. However, he still dreamed of becoming an IAS officer and did not stop chasing his dream. He continued to prepare for the UPSC exam.
He took a leave for appearing in the UPSC interview and then returned to his job as he was not sure of the result. Ravi was surprised to find out that this time he had not just cleared the examination but topped it with AIR 9.
His family also supported him throughout his preparation and motivated him.
Rahul Jain learned his mistakes each time he failed in the examination. Each time he worked on his weak points and worked on a stronger strategy to attempt the exam. He was consistent in his preparation and worked hard. There are no coaching centers available in Deogarh. Rahul did all his preparation through self-study. Rahul's will to do something for the society and the development of the country helped motivate him to keep trying.
Read More: How to Start UPSC Preparation from Scratch?
IAS Preparation Strategy of Ravi Jain
UPSC is the toughest exam in India and requires a lot of dedication and focus to clear the examination. Aspirants often make mistakes in the exam and later learn from their failures, and re-attempt the exam. Making a strategy that best suits your needs is the crucial step to UPSC preparation.
Aspirants often follow the strategy of UPSC toppers to follow in their footsteps to the path to success. However, it is also important to alter the strategy as per your weak and strong points. Ravi Jain has shared the strategy that helped him score a single-digit Rank in the UPSC exam.
Ravi Jain chose Psychology as his optional subject. He was interested in the subject and thought the Civil Service Exam would give him the opportunity to study it.
Ravi Jain shared that aspirants get evaluated for what is written in the paper, and not based on what they have studied. Hence, answer writing becomes a very crucial part of the UPSC exam. Ravi practiced answer writing, and also practiced test series of coaching centers. He read the requirements of the Essay paper specified in the UPSC syllabus.
In each attempt, he learned the demand for the exam and worked on attempting questions in a particular manner. He also read a few blogs about the topper strategy to understand what is needed in the exam. In the last two attempts, Ravi used to watch an online class of Essay test series. He made online and handwritten notes that he could later use to revise.
Ravi studied the basic standard books, newspapers, and regular current affairs material. He focused his attention on giving tests and practicing writing answers. This helped him achieve his dream ,and become a topper in the UPSC Exam.
Frequently Asked Questions About the UPSC Topper 2019
Q 1- What is Ravi Jain's strategy to become an IAS topper in the UPSC exam?
Answer – Ravi Jain worked on the below strategy to top the UPSC Exam.
– Aspirants should do rigorous essay writing practice.
– Be consistent in preparation.
– Read study material relevant to the syllabus and make short notes.
– Study NCERT coursework books of class 10 and 12, and revise.
– Keep yourself updated with current affairs and the latest news.
– Study with the standard books, newspaper, and current affairs material.
– Focus your attention on giving tests, and practicing writing answers.
Q 2 – What is IAS Ravi Jain Rank in the UPSC exam.
Answer – Ravi Jain passed the UPSC exam 2019 with AIR 9 Rank in the exam out of the 829 IAS Candidates.
Q 3 – What is the age of Ravi Jain IAS?
Answer – Ravi Jain is 29 year's old.
Q 4 – What was the optional subject of Ravi Jain.?
Answer – Ravi Jain selected Psychology as his optional subject.
Read More: Top 10 Best IAS Coaching in Delhi