Pradeep Singh tops UPSC Exam 2019. Check out his Preparation Strategy and Success mantra of the IAS Toppers
IAS has been a dream and a goal for many students in India for decades. What inspires the students is the reputation that UPSC holds. The position of an IAS officer, marked by fantastic success stories. Surpassing thousands of students every year. The journey is what counts as the Journey is what makes them who they are today.
We are going to talk about Pradeep Singh IAS and his journey to becoming a topper in the UPSC Civil Services examination 2019. Being an IAS officer was a childhood dream for Pradeep Singh. He appeared in the UPSC Civil Services exam four times and cracked it in his 4th attempt.
Only this time, he did not only just crack the exam but also got the first rank in the UPSC Civil Services exam 2019. Pradeep Singh is 29 and hails from the Sonipat district in Haryana. He was qualified for the Indian Revenue Service (customs and central excise).
Father and Family Background of Pradeep Singh Topper 2019
Pradeep's father is a farmer, and his mother is a homemaker. Pradeep Singh studied till class 7 in a government school at his native Tewari village. Later his family shifted to Sonepat. Pradeep Singh has a family of five people. Pradeep is the second son after his elder brother Ajeet Malik and has a younger sister.
He completed his graduation in engineering from Deenbandhu Chhotu Ram University of Science and Technology (DCRUST) in Sonipat, Murthal. Pradeep's father owns eight acres of land, which is the primary source of income of his family.
IAS is a dream for many, and students all over India aspire to be an IAS officer looking at the success stories. Behind every IAS officer that gets elected is a motivational story that led them to their final destination.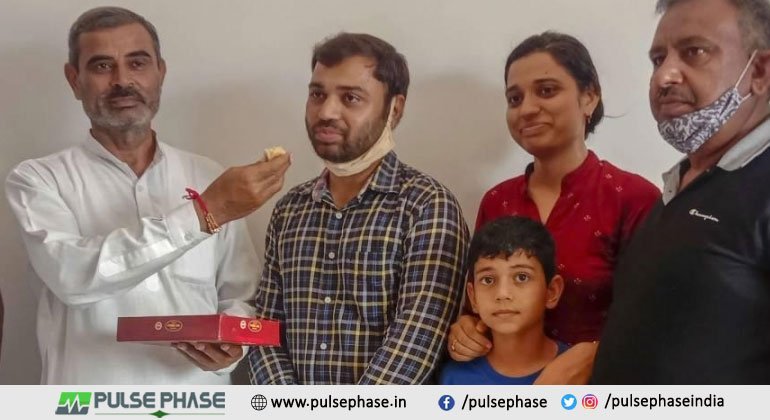 The Journey of Pradeep Singh IAS
Parents are the ones who give us all we have today. They mold their children like clay and make them how they envision them to be. Parents pass down values and motivation needed to make their child a better person.
Pradeep Singh's father Sukhbir Singh is the former Sarpanch of Tewari village in Sonepat, Ganaur. His father served as a village Sarpanch twice. Moreover, his grandfather also served as a Sarpanch once.
We all look up to our parents to guide us on the right path. For Pradeep, his father was his biggest motivation. Pradeep's father inspired him to become an IAS officer. He wanted to work for the welfare of the farming community.
Pradeep completed his class 12 from Shambhu Dayal modern school, Sonepat in 2008. After completing his graduation, Pradeep took coaching for the Staff selection commission (SSC). He got the first job as an Income Tax officer in Delhi in 2014.
In 2018, Pradeep got 260th rank in the UPSC Civil Services exam. It was very difficult for Pradeep to study and work at the same time. At one point, he thought of stopping the preparation for IAS. His father stood by him throughout and constantly motivated him, telling him not to lose hope.
Pradeep's father taught him to have patience and do hard work. Pradeep shared that his friends also helped him in cracking the exam. He achieved his goal of becoming an IAS officer by doing self-study and hard work.
His strategy was not to crack the exam but to live up to his potential, and reach his dream to work for the deprived sections of the society. His main aim has been to improve education and farm sectors in Haryana.
Pradeep Singh- IAS Preparation Strategy For UPSC Exam 2019
IAS aspirants look up to the preparation strategy of the toppers, as a guide for their journey to becoming an IAS officer. The question still lingers in the mind of IAS Aspirants.
What did Pradeep Singh do to become a UPSC Topper? What was his Success mantra for the exam?
After working as an Income Tax officer, for five years, Pradeep realized that to bring a change he needs to be in a better position. Since then he started to prepare for the UPSC Civil Services Exam.
Pradeep took the help from a few IAS coaching institutes at the beginning of his UPSC preparation. Unfortunately, he could not clear the UPSC Civil Services Exam in his first three attempts.
Since Pradeep chose to prepare for the exam while working. He utilized the time before and after the work shifts to prepare for the exam. He would spend his weekends studying and preparing for the exam.
Pradeep finally cracked UPSC with rigorous preparation and hard work for four years. Every failed attempt taught him what his mistakes were, and he learned from those to prepare better for his fourth attempt. With every failed attempt, he emphasized more on self-study.
The important advice that Pradeep shared for his preparation strategy is to focus on writing skills to pass the mains exam. He also shared that interpersonal skills are essential for clearing the interview stage. Pradeep focused on self-study and did not compromise on his daily targets to ensure that the syllabus was covered effectively.
With these success stories, we want you to know that nothing is impossible if you set your mind to achieve your goal. You can pass any hurdle with handwork, determination, and focus on your targets.
Check out: Top 10 Rank Holders in UPSC CSE Exam 2019
Frequently Asked Questions About Pradeep Singh IAS
Question 1- What is Pradeep Singh's strategy to become an IAS topper in the UPSC exam?
Answer – Pradeep Singh worked on the below strategy to top the UPSC Exam.
Focus on writing skills to pass the main exam and interpersonal skills for clearing the IAS interview stage.
Do not compromise on daily targets and ensure that the syllabus is covered effectively.
Question 2 – What is IAS Pradeep Singh's Rank in UPSC.
Answer – Pradeep Singh IAS passed the UPSC exam 2019 with AIR 1 Rank out of 829 candidates in the exam.
Question 3 – What is the age of Pradeep Singh IAS?
Answer – He is 29 years of age.
Use Article to Read:
Please share your feedbacks