Pratibha Verma- UPSC CSE All India Rank 3
Success is not always about the results. It is about the journey that leads you towards the end goal. Success is all about the consistent hard work and determination towards one's goal.
UPSC has become the most sought government examination. It is because of the positions that it offers. IAS is one of the most respectable Jobs in India. It gives you the opportunity to serve your country. People from all parts of India and from all sections of the society apply for UPSC every year. All with the dream of doing something good for their country.
What makes them choose UPSC? Why are the aspirants so motivated to be an IAS officer?
Today we are going to talk about one amazing woman that has reached her dream goal through her determination and hard work. We are talking about the journey of Pratibha Verma who is a topper in UPSC CSE 2019. Pratibha Verma secured All India Rank three in the Civil Services Exam 2019.
What made her so motivated to be an IAS officer?
The answer is very simple. IAS officers are like gems found in a coal mine. Every year new IAS officers get selected and prove their worth by working day and night for the country. They are an inspiration for the young aspirants because of the work they do to make the nation a better place.
Pratibha shared that when she was younger, officers used to visit a local school, where her mother worked as a teacher. The officer's review always mattered a lot to her mother and the school staff. This inspired Pratibha to be an IAS officer.
All you need to know about Pratibha Verma
Pratibha was motivated, looking at how IAS officers handled the COVID 19 crisis. IAS officers have been working at the frontline. In such a critical crisis risking their life, providing food to the needy, and ensuring smooth functioning across all sectors.
She was inspired by the way IAS officers act as the first responder at the time of any crisis. They are always on the frontline at the time of difficult situations. Even though Pratibha had already been selected in the IRS, she was motivated to try one more time.
Pratibha Verma hails from Sultanpur, Uttar Pradesh. She is 27 years old and secured an All India 3rd Rank in her third attempt. Her father Mr. Suvansh Verma is a retired Principal. Pratibha's mother Usha Verma is a primary school teacher.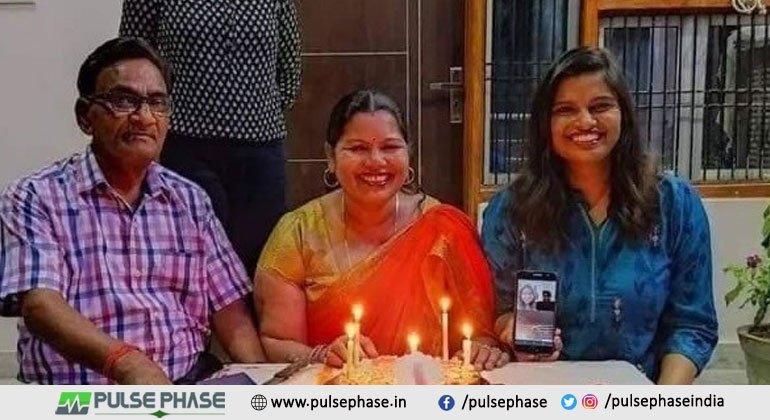 In the year 2008, Pratibha secured third rank in high school examination in Uttar Pradesh. At this point, her success was just beginning and she did not look back. She topped the district in the Inter examination from the Kamla Nehru Institute of Child Education (KNIC) School in Sultanpur in 2010. After 12th, Pratibha cracked the IIT-JEE entrance test and got admitted to IIT Delhi for a B.Tech degree.
During college, Pratibha used to work as an NSS volunteer. Being in the NSS, Pratibha had the chance to work closely with several NGOs. These NGOs worked towards women empowerment. Pratibha knew that this was an area she wanted to work with in the future as well.
After completing her B.tech Degree, Pratibha worked with a multinational telecom company in Pune for 2 years. Pratibha felt extremely disconnected from society when she was working in the private sector. She realized that she was capable of contributing so much more.
Pratibha Verma's Journey to be an IAS Officer
The years from 2016 to 2020 were the most crucial years of Pratibha's life and marked the journey to her success. Pratibha is an intelligent and highly motivated girl, who carves her path by her hard work. She believes that IAS officers can change the world.
In 2016, Pratibha quit her job and decided to dedicate the next few years of her life to UPSC preparations. In 2017, Pratibha attempted for the UPSC exam but was unable to clear the preliminary exam. Pratibha got a rank of 489 and was selected as an IRS officer in 2018. Pratibha selected physics as her optional subject.
She worked as a probationer at the Indian Forest Service (IFS) for five months. Her probation was for the period from August 2019 to December 2019. In December 2019, Pratibha joined the Indian Revenue Service (IRS). She joined the service as an Income Tax Commissioner at Nagpur district on probation.
Pratibha took a study leave from her IRS service to make her dream a reality. She felt that she deserved to give UPSC one more try. Pratibha's hard work paid off and she secured the AIR 3 in the UPSC Civil Services 2019 Exam.
Pratibha Verma was diagnosed with Diarrhoea just before the UPSC Mains exam but she kept her morale high. She kept her eyes fixed on her goal and continued to prepare with dedication.
No doubt Pratibha's parents are proud of her. But, not only that, her hard work has not gone unnoticed all over India. Uttar Pradesh Chief Minister Yogi Adityanath congratulated the successful candidates, especially Pratibha Verma.
District Magistrate Jaunpur Dinesh Kumar Singh also greeted the young achiever saying that it was a proud moment for the people of the district and the state.
Preparation Strategy of UPSC Topper Pratibha Verma
The most important question you would have in your mind right now would be, What strategy did Pratibha use to top the UPSC exam?
After her failed first attempt in the preliminary exam. In the second attempt, Pratibha covered all the static general studies books. She prepared the current affairs of the last two years. Pratibha shared that current affairs are not limited to the current events.
Current affairs require knowledge and understanding of the background of the current event. This helped her in writing the answer in the IAS main exam. Pratibha focussed more on the optional subject as it was her strength. She focused less on general studies and essay papers. Through this approach, she achieved a rank of 489 and was selected as an IRS officer.
In her third attempt, Pratibha gave equal priority to prepare for the general studies and essay paper. She prepared notes for the general studies topics, thoroughly read her notes, and revised them periodically. Pratibha took guidance for the essay paper.
Pratibha also prepared the answer to the previous year's question papers. She followed at least three newspapers regularly for the preparation of prelims and ensured going through at least one newspaper a day.
Pratibha referred to NCERT text-books to refresh her concepts for physics, geography, and other subjects. She shared that it is important to study NCERT coursework books of class 10 and 12, and revise all that they have studied to crack the exam.
Pratibha also shared that aspirants should read Lakshmikant for polity, and Spectrum's modern history. Aspirants should give mocks and work on the areas they are weak at.
Besides these areas, focus on logical reasoning and comprehension which are important aspects when it comes to the aptitude test.
Frequently Asked Questions About IAS Pratibha Verma
Question 1- What is Pratibha Verma's strategy to become a topper in the UPSC exam?
Answer – Pratibha Verma worked on the below strategy to top the UPSC Exam.
Study NCERT coursework books of class 10 and 12, and revise.
Keep yourself updated with current affairs and the latest news.
Make notes and revise regularly.
Read Lakshmikant for polity, and Spectrum's modern history.
Give mocks and work on the areas you are weak at.
Prepare the answer to the previous year's question papers.
Focus on logical reasoning and comprehension.
Question 2 – What is IAS Pratibha Verma's Rank in the UPSC exam.
Answer – Pratibha passed the UPSC exam 2019 with AIR 3 Rank in the exam out of 829 UPSC Candidates
Question 3 – What is the age of Pratibha Verma IAS?
Answer – She is 27 years of age.
Question 4 – What was Pratibha Verma's optional subject?
Answer – Pratibha chose Physics as her optional subject which she had studied in college.
Question 5 – Is the Mains copy of Pratibha Verma available online?
Answer – Download the pdf of Pratibha's Mains Copy here.
Use Article to Read:
Please share your feedbacks