Everyone is affected because of the Corona Lockdown and things are not looking normal even for the UPSC preparation point of view. Since all the chief ministers are in support of extended lockdown and the delay of UPSC Pre exams may not come as a surprise. There is suspicion that the exam will be postponed.
UPSC has already deferred several exams and services examination may also get postponed but this is a thing of the future. You should not hamper your study plan and not assume anything is the right thing in this situation. If lockdowns are not removed completely then it is evident that the Civil Services exam 2020 may get postponed. And moreover, the situation is not under control so far.
There is a sudden spike in COVID-19 cases due to the Markaz Incident. Many infected people traveled amidst the lockdown and this spiked the cases by thousands in India. All state governments are already in favor of extending the lockdown.
Due to the unavailability of the COVID-19 vaccine, social distancing is the only means to stop the spread of this deadly virus. Public transport is also at a halt including railways and roadways. Many students chose centers in other states so commutation is also a problem. Postponement of the IAS exams seems a good solution and the government may take a call in favor of postponement.
Has the UPSC postponed the personality test for the 2019 batch?
Yes, UPSC postponed the personality test for the 2019 batch. You would also be thinking whether UPSC has ever postponed any exams or not so the answer to this question is also "YES". UPSC recently postponed the Personality test – 2019 including NDA and NE exams.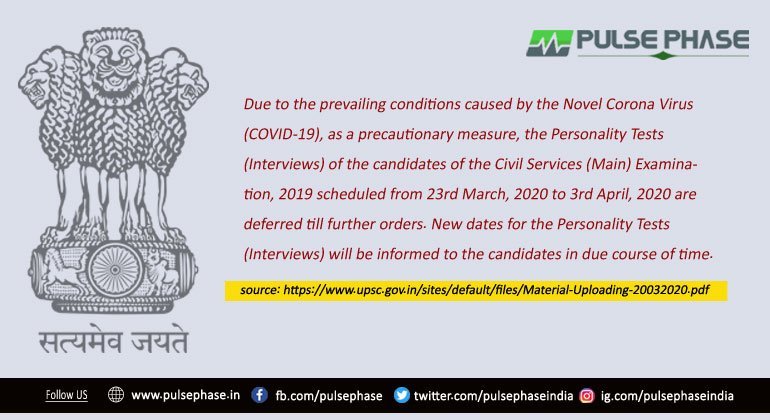 Who is impacted the most due to the postponement of the Personality test?
These are the candidates who cleared the Pre & Mains last year and they are to undergo the final interview of UPSC. However, these aspirants can use this time as an advantage and brush up their course more.
It is very evident that the UPSC CSE 2020 exam also may get postponed until further notice. Prior to that, in 2015, Pre exams were taken in August instead of May.
What do you need to know about the UPSC CSE exam 2020 this year?
Union Public Service Commission (UPSC) conducts the Civil Services Examination to recruit IAS, IPS, IRS, IFS officers. This year UPSC is due to take the exam on 31st May 2020. However, in the wake of the COVID 19 Crisis, this exam may get postponed.
The UPSC government has notified on its website about all the changes in exam dates. There are several benefits and losses for the UPSC aspirants. The good thing which may come out from this is the UPSC aspirants now will have some extra time for revision.
What an IAS aspirant could do during COVID-19?
Stay Updated on COVID-19 – UPSC exams may ask most of the questions revolving COVID-19 so being updated in the most important thing. Study what are the initiatives being taken by the Governments of all around the world to curb the illness.
Revise your syllabus – This may be the right thing to do in this situation. Prepare your syllabus and focus on the weak points. This may help to turn your results upside down.
Stay away from Negativity – This is the second most important thing you could do at this time. Our mind tends to lose track and it's very hard to focus these days with so much chaos happening in the world. Be focused and keep practicing.
Be Safe and stay at home– This is the most important thing at this point in time. This COVID-19 is a contagious virus and we all know that. Be safe and stay at home. Also, encourage people around you to stay at home because after all, this is going to be your job once you become an IAS or IPS officer.
Check Useful Tips to Keep Continue Your UPSC study During the Coronavirus Outbreak
There are many IAS students who prepare for the exams in the last days so they will have some extra time with them. Especially those candidates who are due for this year for the personality test. They can brush up their knowledge and focus on the area for which they couldn't get time to prepare for. Additionally, they need to be more alert as there will be various questions around COVID 19 in their interview.
FAQs about UPSC CSE Exams 2020
Q1. When UPSC Pre exams were postponed last?
Answer – The UPSC Pre exams in session 2015-2016 were held in August which usually takes place in the last week of May.
Q2. IS UPSC Personality test interviews for last year (2019) qualified candidates postponed?
Answer – Yes, This exam is canceled until further notice. Now, candidates may have to wait a little more to become a gazetted officer.
Q3. IS UPSC CSE 2020 exam postponed due to COVID-19?
Answer – No, this is not notified by the USPC board till now.
Q4. What exams UPSC has postponed so far?
Answer – UPSC NDA & NE (I) exams are postponed which are scheduled to be held in April 2020.
Q5. Is the IAS examination 2020 postponed?
Answer – No, only the Personality test has been postponed so far. There is no update about the CSE 2020 examination so far.
Please share your feedbacks