In this article, we are going to know about the youngest IAS officer in India. How he prepared for the exam and what kept him going?
IAS is the mother of all the exams and clearing it is a dream of many students. Almost 10 Lakhs students appear every year in the prelims exam but only a thousand clear it.
The youngest IAS officer in India is Ansar Ahmad Shaikh. He cleared the UPSC examination in his very first attempt, securing AIR 361 at the age of 21.
Ansar broke the record of Roman Saini who cleared the IAS examination at the age of 22. He was the youngest IAS officer of India before him.
Ironically, his father Younis Shaikh Ahmad is an autorickshaw driver and his mother works in the field to support his family.
Moreover, his brother who dropped out after XII and started working in the garage to support his brother in his studies.
"It takes a village to raise a child", the proverb fits accurately in Younis's Life. Ansar is supported by his family members and he worked dedicatedly to achieve this feat.
Ansar Shaikh's Family Background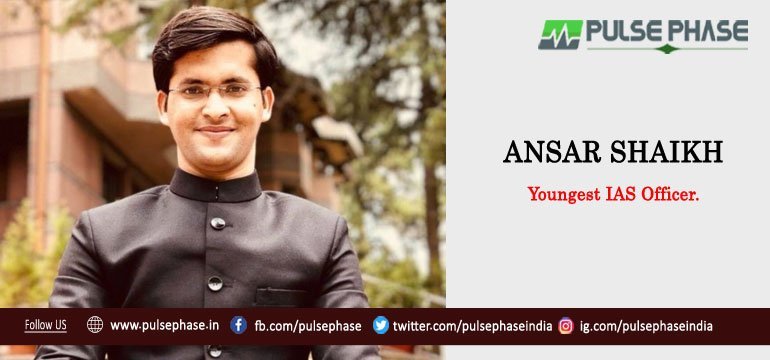 Ansar has been a bright student since his childhood and he knows how to work hard. He worked 12 hours a day for consecutive 3 years to achieve this feat in life.
He hailed from a village background and education was not at all a priority in his village. His father has 3 wives and he is the son of the second wife. His father never dreamt of his son being an IAS officer. Even nobody in the village even thought beyond earning normal life. But this youngest IAS officer has something else in his mind.
He secured 91% marks in the Xth Exam. Further, he studied Political Science in college. It was also his optional subject in the UPSC preparation.
He took a private coaching for UPSC preparation and thanked his teacher Rahul Pandve who also cleared IAS exam the same year with AIR200.
How the youngest IAS Officer approached the Exam?
Ansar knew that without hard work clearing the exam is not possible. He prepared a strategy with the help of his teachers.
Ansar first approached the optional paper and prepared for the 6 months. He then prepared for general studies and then he focused on the Mains paper.
At the later part of the preparation, he took time for thorough revision. This youngest IAS officer studied normally for 12 hours and 15 hours during the UPSC exams.
Ansar's Academic Facts & his Vision
Important Fast Facts to Know About Ansar Shaikh
Examination year– Ansar Shaikh cracked the UPSC 2016 exam in his first attempt.
Age of Ansar Shaikh – At the time of clearing the test, he was 21 years old thus becoming the youngest IAS officer of India.
Locality- Shelgaon village in Maharashtra's Jalna district.
Ansar Shaikh Rank – AIR 361
Interview and Mains Language – Marathi
Ansar Shaikh posting- At the Department of MSME and Textiles, Government of West Bengal. Ansar Shaikh IAS is serving as Officer on Special Duty (OSD).
Ansar Shaikh Salary- Now the basic pay of entry-level IAS officers is ₹ 56,100. To know more about IAS Salary you can have a look at this.
Vision of Ansar IAS topper
He comes from a very backward undeveloped area and belongs to a minority community. He aims to uplift the life of the people facing such problems.
His success story is sensational and it inspires many students from across the country for the UPSC civil service exam.
Frequently Asked Questions
Q. Who is the youngest IAS officer of India?
Ans – Ansar Ahmad Shaikh is the youngest IAS officer at the age of 21.
Q – What is the age of the youngest IAS officer in India?
Ans – The early entering age for IAS is 21. Earlier to that record was 22 years.
Q – What is the rank of India's youngest officer?
Ans – Ansar Ahmad Ansari who is the youngest IAS officer secured 361 Civil Services Exam.
Useful Article to Read
Please share your feedbacks