Rau's IAS Study Circle
The establishment of Rau's IAS study circle was spearheaded by DR. S. Rau in 1953 and has since then been a flag bearer of quality IAS coaching. Its stupendous success in Delhi has encouraged the management to spread its knowledge in the cities of Jaipur and Bangalore.
Rau's IAS boasts of experience enriched faculties that have turned aspirants' dreams into a reality of becoming bureaucrats. Along with taking pride in its heritage, the Rau's IAS has incorporated modern technology for delivering quality coaching to maximum students possible.
The vision of Rau's IAS Study Circle Delhi
Rau's IAS study circle moves beyond rot learning and focuses on the holistic intellect stimulation of the aspirants. The vision statement espoused by this institute underlines that training of aspirants for the IAS examination is not their only target. Rather the staff is striving to prepare the students for becoming a part of the knowledge community that qualifies every aspect of this examination.
Such aspects involve extensive knowledge of theoretical subjects and current affairs. Furthermore, one has to hone skills that reflect mental alertness, ability to analyze, problem-solving and succinct expression. Therefore, knowledge acquisition and personality development create a necessary combination that guarantees success in the IAS exam.
Rau's IAS Study Circle Delhi Process
The preparation process for civil services is protracted and demands a constant learning adaptability approach. It cannot be done as per whims and in a leisurely fashion. Rau's IAS sets the right guidance for serious aspirants.
They have designed their class modules in an interesting manner that will trigger students' interest in learning more and further simplify complex subjects. Therefore, at the end of the day, every student walking out of the classroom will have gathered conceptual clarity on the lesson imparted.
Apart from the lectures, there will be assessment tests to measure students' level of preparation. Moreover, an overall analysis of their tests will help aspirants to understand the mistakes made thereby preventing their further occurrence.
Students will be taught no magic tricks for cracking this exam. Rather, they are going to be guided to adopt a smart approach to learn maximum with efficient understanding in minimum time.
Courses structured by Rau's IAS Study Circle Delhi
Rau's IAS keeps in mind the differential needs of diverse aspirants. It has therefore divided its courses into two main branches which are the foundational course and targeted courses. Some detailed features of these programs have been discussed below.
RAU's IAS Fees Structure
Course Name
Fees
General Studies (integrated) Program
Admission Fee – Rs 1,75,000
Registration Fee– Rs 500
Optional Subjects for Mains Exam
Admission Fee – Rs 50,000
Registration Fee– Rs 500
PRE-Test Series & QIP (Pre 2021)
Admission Fee
(Comprehensive Revision Module)– Rs 15,000
For Rau's ex-students – Rs 7,500

Admission Fee
(Speedy Revision Module) – Rs 10,000
For Rau's ex-students – Rs 5,000
Mains -Test Series & QIP (Mains 2021)
Comprehensive – Rs 30,000
(15,000 for Rau's ex-students)

Focused – Rs 25,000
(12,500 for Rau's ex-students)
Interview Guidance
Rs 500
1 Mock Interview + 1 Personal sitting
For Detailed IAS Coaching Fees Structure. Please visit the Rau's IAS Website
Foundational Course
This course has been designed to provide correct assistance to beginners in this examination race. It is further bifurcated into general studies and optional programs. As the name suggests, the general studies integrated program has set an undivided focus on the preparation of GS papers for both prelim and mains.
Similarly, the optional course aims to make you an expert from a novice in the chosen subject. Although most of the humanities subjects as optional are available in the Delhi center, for Bengaluru and Jaipur, history, sociology, and geography are offered.
One does not have to worry about the fee structure as it is per the industrial standards. Rather the quality of coaching outweighs the fees entailed in these programs. If you are weak in general studies and have been looking for quality coaching, then be unhesitant to avail of the GS course at approx fees of Rs. 1, 60,000. One has to pay around Rs. 48000 if opting for the optional program.
Check Out About:-
Targeted courses
As far as the targeted courses are concerned, these are more inclined towards providing extensive revisions instead of building the knowledge base. Separate test series are provided to meet the preparation criteria for each stage of examination. For instance, the prelims test series covers the maximum syllabus, and the difficulty level set for the papers matches the UPSC standard.
While the mains test series for general studies focus on answer writing and extensive knowledge, the optional tests emphasize intensive preparation of a singular subject.
Postal course programs
For students who are not residing in either Delhi or Bengaluru or Jaipur, can still obtain Rau's IAS study materials. The experienced faculties of this institute meticulously prepare the reading material and also attach with them the self-assessment tests and previous years' papers.
It is true that one can find various notes in the market forIAS preparation. However, one has to be smart enough to single out Rau's IAS study notes that are worth the price you are paying for.
The availability of these notes in both English and Hindi mediums ensures that the coaching needs of the maximum number of students are fulfilled. The subscription rates of these materials have been provided in lucid chart format on the institute's online website.
One can opt for a bundled package or go ahead with purchasing notes for a single paper. In a nutshell, the rates are extremely reasonable and do not burn a hole in your pocket.
Interview guidance program
This program is covered under the targeted course, but it is still desirable to talk about this guidance separately as it requires a unique approach. Rau's study circle aims to inculcate in students the necessary traits that help them in acing this final round of selection.
Exam-like conditions and enriched interview boards prepare the aspirants for the ultimate deliverance day. Furthermore, the post-interview analysis provided by the experts enables the candidates to mend the loopholes and brush their strengths for the final interview.
Rau's IAS, the toppers' choice
It is not without a reason that Rau's IAS has been hailed as the pioneer inIAS exam preparation.Its well-constructed study materials and quality teaching staff have guided the toppers through their preparation process.
In 2015, all India topper, Tina Dabbi was a student in this institute. Both in 2016 and 2017, second and third rank holders have been students of Rau's IAS. It is expected that similar feats will be witnessed in the upcoming years as well.
If you are eyeing for the next year's civil service examination, then do not get misguided any further and pick out the Rau study circle.
RAU'S SUCCESS STORIES
RAI's IAS – UPSC TOPPERS 2019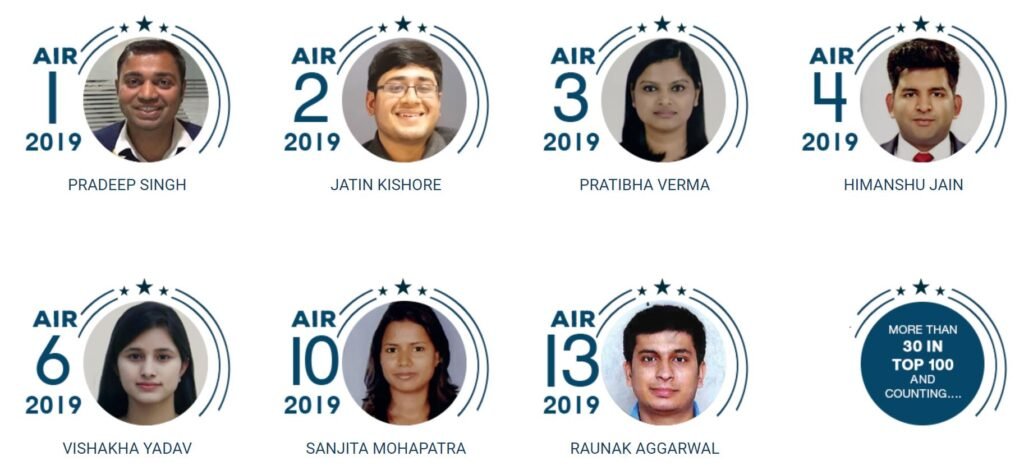 RAI's IAS – UPSC TOPPERS 2018

Rau's IAS Delhi Contact Details
Delhi Address– 309, Kanchenjunga building, 18 Barakhamba Road, Connaught place
Mobile:01123317293, 23318135, 23318136, 23738906, and 23738907
Email Id: [email protected]
Website: https://www.rauias.com/
Note: Apart from Delhi Rau's IAS has opened its branches in Jaipur and Bengaluru as well.
Also, Check out the List ofBest IAS Coaching in Delhifor UPSC Exam Preparation
Disclaimer:The content on this page is a compiled result of Pulse Phase's Research team and the ranking is based on the criteria and guidelines set by Pulsephase and not in any way related to rankings done by governmental bodies. It is purely third-party research work.
Please share your feedbacks